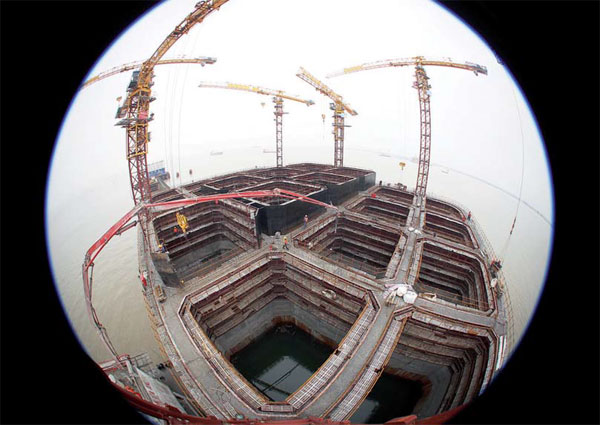 The Shanghai-Nantong Yangtze Bridge under construction on the Nantong side of the river in Jiangsu province. Fixed-asset investment growth further slowed to 13.9 percent in the first two months of this year. [XU CONGJUN/FOR CHINA DAILY]
Listening to the language Chinese officials and economists use to describe their task helps to explain the logic behind the policies they come up with.
Government data, released on Wednesday, show China's GDP growth in the first quarter slid to 7 percent year-on-year, from 7.3 percent in the last quarter of 2014.
A day earlier, Premier Li Keqiang described the situation as "not pretty" to the economists and corporate leaders he met. The premier, borrowing an old farm idiom, candidly said the economy is "between the green and yellow" stage, meaning a difficult time when last year's stocks are about to be used up while this year's harvest is still some time away. The "between green and yellow" stage actually means between harvests.
The farm idiom can be understood at several levels. First, China has no intention of going backward. The growth rate of the past years, impressive as it was, was wasteful and unsustainable, and there is no point in repeating it.
Second, the economy's transitional stage is bound to be long and will be accompanied by some lingering problems, which cannot go away even if the government launches a large financial stimulus program. Large-scale and indiscriminate provision of stimulus can worsen some of the problems and thus make the economy's transition more difficult.
Third, helping the economy find a new driver is like growing a new crop. The new industries are to be both nurtured and strengthened. That will take time and require many societal and political changes (such as reforming the way the government runs the economy, as Chinese leaders have promised). It cannot be an engineering process like igniting a new booster rocket.
Fourth, one must have confidence in the future harvest. And the harvest will surely be better if more efforts are made - more seriously and more creatively. Since about one year ago, China has been doing all it can to help its new technology companies, Internet-based services and diverse small enterprises, and the central government leaders have repeatedly urged officials at various levels to improve their services.
No one should doubt the sincerity of China's efforts to seek new ways of economic growth. And no one should doubt that these efforts will yield a good harvest.