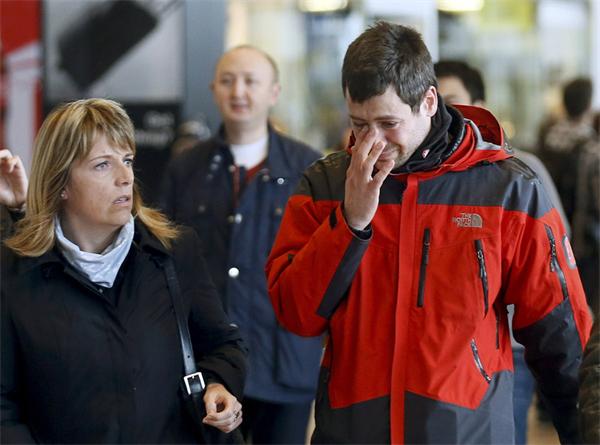 A family member of a passenger killed in Germanwings plane crash reacts as he arrives at Barcelona's El Prat airport March 24, 2015.[Photo/Agencies]
Tuesday was another sad day for the world's aviation industry as an Airbus A320 operated by Germanwings, Lufthansa's budget carrier, crashed in a remote area of the French Alps, killing all 150 people on board.
According to France's aviation authorities, the pilots issued no distress call but had lost radio contact with their control center, adding fuel to speculation about the cause of the crash. One of the plane's black boxes has been recovered from the scene, and it is hoped it will hold clues to what caused the plane to make an unexplained eight-minute dive. A regular safety examination a day before the accident found no problems with the plane, and it underwent a scheduled major safety overhaul in the summer of 2013.
The tragedy has once again raised public concerns over the safety of civil aviation, especially the safety of budget airlines. However, there is no evidence to prove that no-frills flights are less safe.
Such a perception has not changed although aviation experts have made repeated clarifications on this issue over the years, saying that as part of their effort to save costs, what budget airlines do is reduce services, not the necessary safety overhauls and regular maintenance.
However several air disasters in recent years, including the crash in Taiwan on Feb 2, which killed 25 people have involved budget flights operated by budget airlines. These crashes may be accidental and have no intrinsic links, but they have aggravated public doubts over the safety of budget flights.
Given that budget airlines are the choice of a large number of passengers, especially price-sensitive ones, their operators need to ensure they take all available measures to keep accidents to a minimum and boost dented public confidence in them.