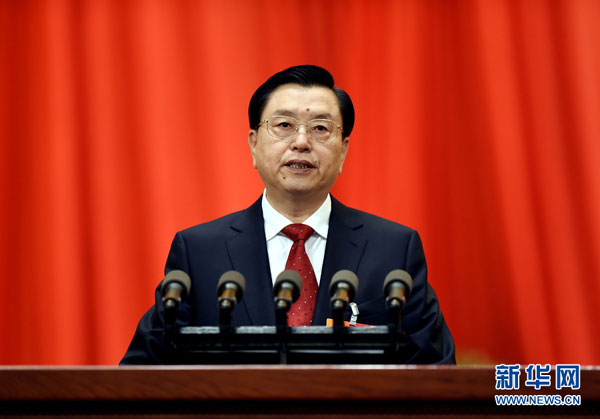 China's top legislator Zhang Dejiang delivers a work report at a a plenary meeting of theNational People's Congress' annual session in Beijing March 8, 2014.[Photo/Xinhua]
Within six days of the conclusion of the annual sessions of the National People's Congress and the National Committee of the Chinese People's Political Consultative Conference, four tigers, or senior officials, at the vice-ministerial or higher, have been placed under investigation for corruption. Comments:
It is more than two years since the central leadership launched the anti-graft campaign, yet so many senior officials are still found to be abusing their power. This best illustrates how rampant corruption is and how much effort is needed to curb the trend. The central leadership is now building a mechanism that puts power in a cage to prevent officials from abusing their power at will.
Wang Yukai, a professor of law at the Chinese Academy of Governance, March 21
A closer look at the new tigers that have been caught shows that they are being investigated directly. In stark contrast, the investigations into some earlier tigers could not begin without removing their allies first, because they had so much power and such strong alliances among other officials that they could strike back. So progress has been made, because common sense has finally prevailed among officials that graft is something abnormal and should be curbed, and no one dare openly defend corruption any more.
Beijing Youth Daily, March 21
There used to be rumor that corruption was only being fought in a selective manner; that the top leader used to work in Fujian province, so the central anti-graft departments would refrain from hunting the tigers here. The fact that Xu Gang, the vice-governor of Fujian province, is among the four tigers now being investigated, shows that rumor to be false. And it once again shows the top leadership's determination to fight corrupt officials wherever they are.
cnhubei.com, March 21