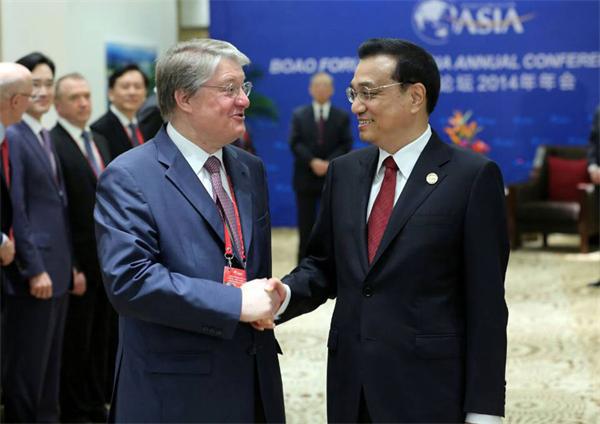 Chinese Premier Li Keqiang meets with a guest before the opening ceremony of the 2014 annual conference of the Boao Forum for Asia in Boao, Hainan province, April 10, 2014. [Photo by Wu Zhiyi/chinadaily.com.cn]
The 2015 Boao Forum for Asia Annual Conference to open on Thursday will push Asian countries to take further steps toward building a "community of shared destiny", says a People's Daily article.
The awareness of the need for such a community has offered Asian countries the impetus to work together for the development of Asia. Thus, Xi's keynote speech to the opening ceremony of this year's forum is being widely anticipated, as it is believed it will explicate China's view of this trend at a time when complicated and precarious international and regional situations have caused extensive concerns over where Asia is heading.
The Boao Forum, to be held in the scenic town of Boao in Hainan province, brings together 15 foreign leaders. They will discuss a range of issues, from regional cooperation, industrial transformation and technological upgrading to political security and people's livelihoods. This broad range of topics also demonstrates participating countries' efforts to define their common challenges and opportunities and strengthen their awareness of Asia as a community of shared density.
In the last two years, such awareness has been incorporated into China's diplomatic ideas and practices, for instance, its proposal for "common, comprehensive, cooperative and sustainable Asian security". China's efforts to build the Silk Road Economic Belt and the 21st Century Maritime Silk Road, a BRICS development bank and the emergency reserve arrangement, as well as the Asian Infrastructure Investment Bank and the Silk Road Fund, embody its awareness that Asia is a community of shared destiny and it will continue to contribute to the common development of Asia and the world.
The Boao event, along with others, has made people aware of the increasingly deepened interconnections between China and the outside world. Just as the France's Tribune newspaper said the Boao Forum showcases China's influence in Asia and even the world.