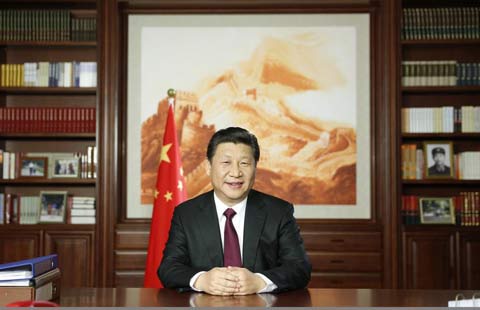 Chinese President Xi Jinping underscored the need to continue efforts to advance reform and rule of law in 2015 in his New Year speech.
With Party General Secretary Xi Jinping at the helm, comprehensive measures to deepen reforms and push for rule of law are continuously driving forward China's socialist cause, the building of a well-off society in an all-round way and promoting the nation's governance, says a People's Daily editorial.
"All significant reform measures must be conducted in accordance with a legal basis and operate on a legal track," Xi said at a top conference aimed at laying out deepened reforms. As a matter of fact, strengthening the rule of law has been a consistent part of Xi's governance since he was elected as Party chief in December 2012.
"To administer according to laws, we must first administer according to the Constitution," he said shortly after he took office.
To comprehensively push for the rule of law in a country like China that has had a millenniums-old tradition of rule of man requires an extensive and profound change of mindset. Xi's remarks, from his announcement that "there is no absolute power beyond the law", to his assertion that "the measures for rule of law will go anywhere the transformation of government functions goes" and his emphatic statement that "we should make everyone feel the equality and justice in every judicial case" are all representative of country's substantial steps forward.
Comprehensive measures toward establishing the rule of law are a key part of the country's modernization drive, and the significant strategic layout has symbolized the fast track its effort toward such a target has entered. A series of measures adopted to push for reforms and development, and to govern the Party, the Nation and the military over the past two years have all been advanced under the framework of rule of law.
China's comprehensive measures to establish the rule of law, together with comprehensive efforts to deepen reforms and more strictly govern the Party, are the driving force and guarantee for building an all-round well-off society and long-term prosperity and stability.