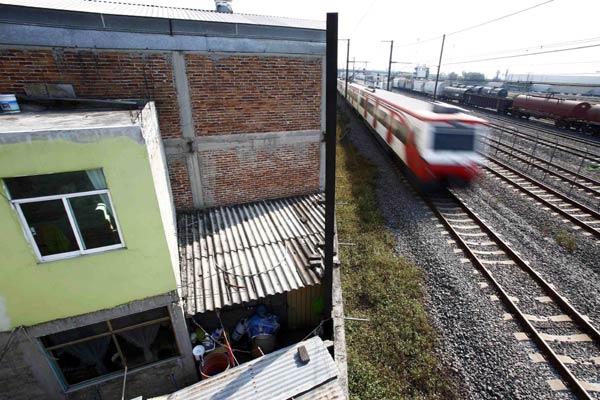 A suburban train passes by a house in the Tlalnepantla de Baz borough of Mexico city in this Nov 7, 2014 file photo. [Photo/Agencies]
On Friday, the Mexican Finance Minister, Luis Videgaray announced the shelving of the tender for a $3.75 billion high-speed railway designed to connect the capital Mexico City and the central city of Queretaro, citing the drop in oil prices. A Chinese consortium was considered the most likely to win the contract. Comments:
Did Mexico cancel the bidding only for economic reasons? The answer is no. The two countries have similar, instead of complementary, economic structures, which makes them competitors rather than cooperative partners in the international market. There had long been opposing opinions, even protests, when news came that Chinese enterprises might win the bid for such a huge program in Mexico. China needs to make more effort to reverse its negative image.
Qiu Lin, financial commentator, Feb 1
While expanding overseas, Chinese enterprises need to realize risks exist everywhere. Even if they pass legal and environmental hurdles, problems may still emerge sometimes. Chinese entrepreneurs need to consider not only a country's laws and regulations, but also its political stability as well, when deciding whether to invest there.
People's Daily official WeChat account, Jan 31
The Mexican authorities said that the fall in global oil prices will heavily affect their economy, as 40 percent of their public expenditure comes from oil revenues. However, there is a debate among Mexican media and analysts about whether infrastructure construction programs should be cut as well. Some have called for the government to continue inviting tenders for the construction of a high-speed railway, saying the low price of oil presents a good opportunity for propelling infrastructure construction.
Chen Yin, Xinhua News Agency's chief correspondent in Mexico, Jan 31
Chinese enterprises have always strictly obeyed Mexican laws while they were participating in the bidding process, and their bid documents are legal. We regret that the Mexican government has cancelled the tender.
Ministry of Commerce of China, Jan 31