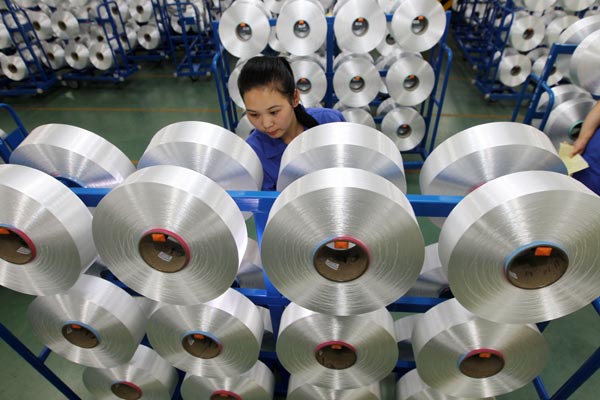 A worker inspects rolls of polyester fiber at a factory in Nantong, Jiangsu province. [Photo/China Daily]
Looking for internal driving forces for economic recovery and improving the global economic governance are two important tasks for the international community. But it requires sober judgment, clear objectives, strong leadership and mutually beneficial cooperation to address the risks and uncertainties facing the global economy, says an article in People's Daily.
Pessimism prevailed at the just-concluded World Economic Forum meeting in Davos, where the general view seemed to be that the difficulties confronting the world are similar to those following the financial crisis in 2008.
Two of the biggest risks now are the growing unpredictability and the increasingly different situations and policies of individual economies.
Yet no country should try to stand alone in today's world, as these risks are interrelated and can spread fast. Because of globalization, local risks can become the fuse that triggers the explosion of global risks.
The 2008 crisis shows that if a country wants to go fast, it can walk alone, and if it wants to walk far, it should walk with others. The recovery of the world economy needs the combination of multiple driving forces. The major economies should be inclusive to different growth models, rather than further consolidating the dominant position of some major economies.
In this process, no adjustment or reform should come at the cost of increasing geopolitical risks. The best prevention of economic risks for individual countries is to address internal problems and engage in international cooperation.
The developed countries need to recover their growth to solve their own problems. They should overcome the temptation to act in their own interests and resort to protectionism, and instead cooperate with the emerging economies to reduce the risks and uncertainties in the global economy.