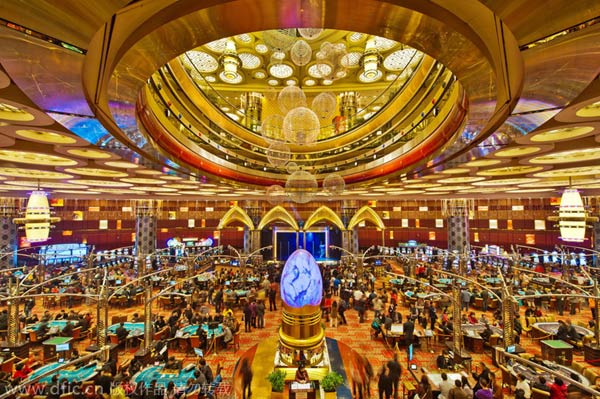 First Floor of the gaming area at Grand Lisboa, Macao, China. [Photo/IC]
According to reports, officials from the Ministry of Public Security will arrive in the Macao Special Administrative Region at the invitation of the local financial administration, possibly to help the local authorities further regulate the gambling industry. This pillar industry of Macao's economy is considered one of the main channels corrupt mainland officials use to launder their illicit money. Comments:
The gambling industry of Macao used to rely heavily on corrupt officials from the Chin
ese mainland, who gambled with large amounts of money obtained as bribes or by embezzlement. Thus, with the anti-corruption campaign continuing in the mainland, the industry already shows hints of withering and might further decline, which in turn will affect the local economy. It is wiser for Macao to adjust its economic structure and get used to the new situation because rampant corruption will never return to the Chinese mainland.
Beijing News, Jan 21
Economic growth and tax revenues are only part of Macao's development; other issues such as economic security, stability and clean governance must be taken into consideration regarding this special administrative region. Macao needs to shift from the current mode of development, mainly led by the gambling industry.
Li Fei, deputy general secretary of the National People's Congress Standing Committee, Jan 13
As the revenue from VIP gambling rooms falls, Macao's gambling industry has suffered. With the anti-graft storm preventing rich people from the Chinese mainland from gambling in Macao, this period is expected to last several more months until May this year.
Fong Ka Chio, professor at and director of the Institute for the Study of Commercial Gaming, University of Macau, Jan 13