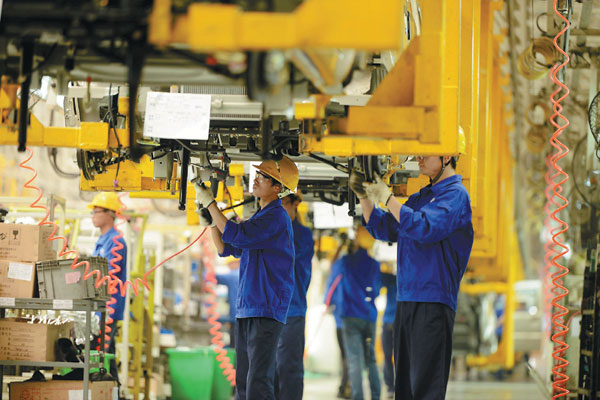 Employees at an automobile factory fine-tune a vehicle in Qingdao, Shandong province. China's GDP grew by 7.3 percent in the third quarter of this year. [Provided to China Daily]
New normal means slower economic growth, but the government can press ahead with reform for restructuring and resilience
The Chinese economy has entered a new normal as the government pays more attention to the economy's restructuring than its speed of growth.
This year's economic growth is expected to be between 7.3 percent and 7.4 percent, which is within a reasonable range.
At the same time, the global economic situation shows the following characteristics that have close connections with the Chinese economy: economic growth has slowed, the falling prices of oil and other staple commodities reflect the lack of driving force for economic growth, the economic policies of the major economies lack coordination, the global economic structure is adjusting, reform of global governance system has stalled, and the contribution of labor and capital to economic growth have declined.
Because of these, new technology has become a key economic growth point.
The Chinese economy's new normal will last for quite some time. But with the per capita gross domestic product in China near $6,800 last year, the country needs to avoid the middle-income trap. The main mission therefore is to transform the economic growth model, so that innovation replaces the large inputs of investment and labor as the main driving force boosting economic growth. This new model of growth will also save more energy and better protect the environment.
Under the new normal, Chinese economic growth will slow, but the growth will be of higher quality and resilience, and more environmentally friendly. The industries will move to the higher end of the industrial chain, with more added-value generated through innovations. The service sector will contribute a larger proportion to the economy, and private businesses will see a big improvement in their business environment and the private sector will become the main player in the market.
Small and medium-sized enterprises and emerging industries will become new growth points for the economy, and these enterprises will become not only the main employers, but also the main innovators.
The gap between the rural and the urban areas, between the coastal areas and the inland areas will gradually be reduced, with the modernization of agriculture, reallocation of industries and the development of the countryside. Public resources will be distributed more fairly across the nation.
This year, China became an exporter of capital for the first time. Exports of capital can help China balance its outbound economy and it will have a stronger capacity for participating in the reconstruction of global industrial chains, supply chains, and value chains.