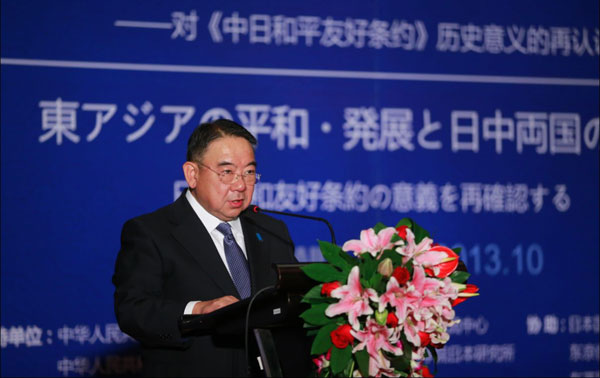 Japanese Ambassador to China Masato Kitera expressed deep concerns about the strained relationship between China and Japan when he was addressing the opening ceremony of Beijing-Tokyo Forum on Oct. 26, 2013.
The office of Japanese actor Ken Takakura, who died in Tokyo on Nov 10, issued a letter of appreciation to his Chinese fans on Dec 24. The letter, published on the website of Japan's news agency Kyodo News, read that their condolences have warmed the hearts of the staff at the office and reminded them of the bridge of warmth Takakura worked hard to build in his lifetime.
The serious way the larger-than-life Japanese actor did each of his films and lived his life knocked his Japanese and Chinese co-workers and fans out.
For him, films should know no borders and tug at different peoples' heartstrings.
His films did these. All his films released in China are in his Chinese fans' good graces.
In a way Takakura, whose strong, taciturn on screen presence drew comparisons with Humphrey Bogart, Robert Mitchum and Clint Eastwood, was a mirror, through which Chinese people got a good picture of their neighboring country.
However, culture alone can't keep China-Japan relations stable.
The opinion polls conducted by China Daily and Japan's non-profit organization Genron NPO over the past decade show a warm relationship has turned freezing cold.
The latest survey by Japanese Prime Minister Shinzo Abe's cabinet office underscored the shaky status of relations. A record 83.1 percent of those surveyed said they were hostile to China, up 2.4 percentage points on the results of the previous year's survey. Those who pronounced themselves "friendly" toward China slipped 3.3 points to a paltry 14.8 percent. The cabinet office started the annual poll in 1978.
The Japanese people have accompanied their words with actions, shunning China when traveling overseas.
Back in 1980, Japan's national public broadcasting organization NHK started broadcasting a documentary series Silk Road. The TV program, which ran for over a decade, opened a door to its Japanese viewers to know about China - its history, culture, philosophy and geography. Many Japanese people were attracted to China thanks to the program.
Japan's acclaimed novelist Shiba Ryotaro described the popular TV series as "the most fruitful" cultural exchange between the two countries after the World War II.