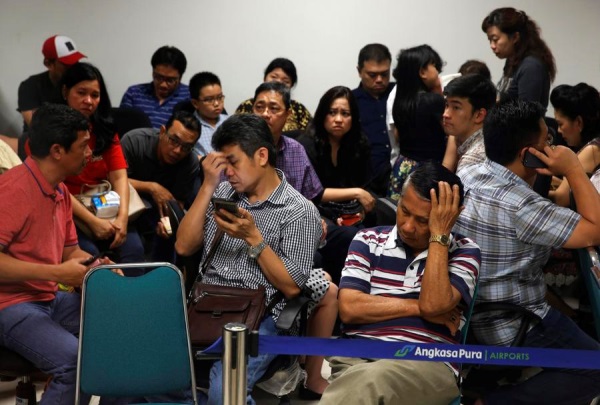 Family members of passengers onboard AirAsia flight QZ8501 react at a waiting area in Juanda International Airport, Surabaya December 28, 2014. Indonesia called off until first light a search for an AirAsia plane with 162 people on board that went missing on Sunday after pilots asked to change course to avoid bad weather during a flight from Indonesia's Surabaya city to Singapore. Indonesia AirAsia Flight QZ8501, an Airbus 320-200 carrying 155 passengers and seven crew, lost contact with Jakarta air traffic control at 6:17 a.m. (2317 GMT on Saturday). No distress signal had been sent, said Joko Muryo Atmodjo, an Indonesian transport ministry official. REUTERS/Beawiharta
Evoking memories of Malaysia Airlines flight MH370, an AirAsia plane with 155 passengers and seven crew on board lost contact with the ground on Sunday morning after the pilots asked to change course to avoid bad weather during a flight from the Indonesian city of Surabaya to Singapore. Search and rescue operations are now underway.
While the fate of the plane and those on board still unknown, the two flights do have one point in common: the delay in releasing information. MH370 lost contact after 1:20 am local time, yet Malaysia Airlines did not respond until four hours later. The last communication with QZ8501 was at 6:17 am, yet the first news that it was missing was not released until four hours later.
The Malaysian government, under pressure, vowed to investigate why there was a delay in releasing the news about MH370; yet no explanation has been forthcoming as yet. Later, AirAsia will also need to explain their delay in releasing the information.
No airlines are indifferent to flight security, which is key to passengers placing their trust in them. And it's true that it may take some time for an airline to confirm whether a flight is in trouble. However, the information-sharing mechanism should be improved. Once something abnormal happens, an airline needs to share information as early as possible, so that any coordinated rescue efforts can be launched as soon as possible.
An airline's initial reaction to any problem is to try and solve problems with their own resources or try to find ways to limit any damage to public confidence. As a result, it generally takes several hours for airlines to decide if they need help, but that delay may cost lives.
Airline companies should no longer shoulder the responsibility for flight security alone. What is needed is an emergency response mechanism, whereby airlines collect information about flights and relay it to higher authorities in a timely manner, so search or rescue efforts can be launched in a timely manner when necessary. If possible, the mechanism should include military forces and international organizations, too.
Such a mechanism will entail costs and require closer coordination among governments and airline companies, but it is high time the international community acted to ensure safer skies.
The author is a writer with China Daily. zhangzhouxiang@chinadaily.com.cn