Editor's note: Everyone makes mistakes when learning a foreign language it is part of the learning process. Some errors are amusing, while others can be quite embarrassing. What was your most embarrassing moment while learning Chinese? If you have any funny stories about learning a language, we would love to hear it.
altitarev (Australia)
In Chinese class I once said 有了, meaning "I got it" or "finished the task". The teacher laughed and said that this is said by women when they get pregnant. It was a good laugh and we talked about this several times in the following days. I wasn't too embarrassed but that was the most awkward moment.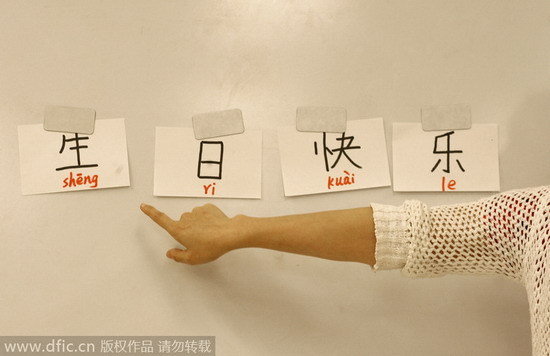 Teacher Jingsi Cheng teaches her student how to say Happy Birthday in Chinese at Thurgood Marshall Fundamental Middle School. This is Cheng's first year teaching in public schools in the United States.