Editor's note: Many Chinese parents spend big on early education to ensure that their children can get a head start. But is early education an investment for the future or a huge waste of money? Forum readers share their opinions. You're also welcome to leave yours.
Seneca (expat in China)
Parents should decide what is best for him or her. To go with the flow of fashion is not the best way. Education is far more comprehensive than you seem to realize: it goes beyond school teaching. Parents have their own role to play and to teach their children.
The best advice is to let your child develop on his or her own for a while before attending a kindergarten. To pressure children so young to perform in academic studies is cruel and unnecessary. This is what most Chinese parents do. The result: China has produced no genius in recent decades. A genius is someone who is ahead of all others and knows things that have not even been discovered yet. Let your child discover the world without too much pressure!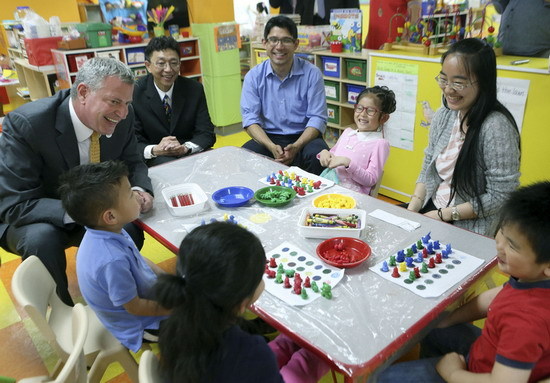 New York Mayor Bill de Blasio, left, and City Councilmember Carlos Menchaca, third from left, visit a pre-kindergarten class at the Brooklyn Chinese American Association early Childhood education Center in Sunset Park, Brooklyn, on May 27, 2014, in New York.
The original piece: http://bbs.chinadaily.com.cn/thread-818068-1-1.html