Editor's note: All parents want the best for their children, and some push them to excel academically to ensure they get a well-paid job and a more prosperous future. Are parents putting too much pressure on kids to excel in their studies? Forum readers share their views. You're also welcome to leave yours.
Incubus (US)
It saddens me to see students working so hard just to try to please their parents. They work tirelessly to earn praise from mom and dad, but all they seem to get is negativity, and the sense they are still "not good enough". I was an average student, but my parents encouraged me to earn good grades for myself, not for anyone else. Their love did not hinge on some essay score or percentage. When I got an A I knew I really worked for it, and when I failed, I failed myself, not anyone else.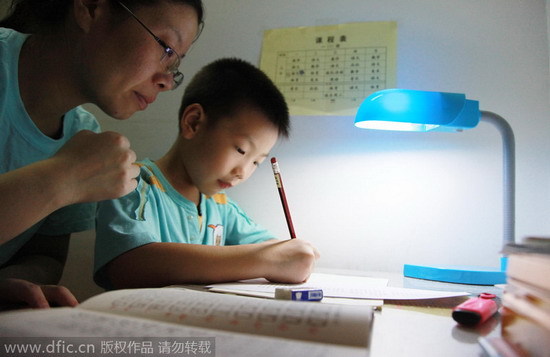 Mom helps son with his homework in Nanjing, Jiangsu province on Sept 24, 2013.