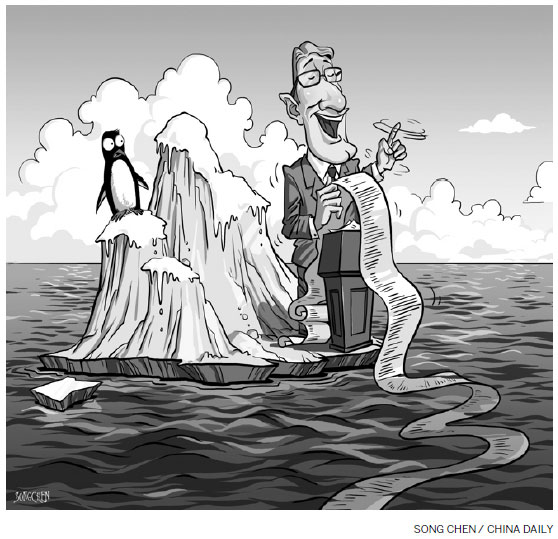 The world will be a cleaner and greener place if developed countries such as the US help developing nations cut carbon dioxide emissions
The special climate change conference called by UN Secretary-General Ban Ki-moon ended this week on promises, not hope, as many before it have. Closing the conference, Ban said: "We heard strong commitment for a meaningful, universal climate agreement in Paris next year, with a first draft to be presented in Lima in December."
The UN secretary-general has taken the initiative to try and resolve many international issues, primary among them regional conflicts and the menace of climate change. But without the participation, and of course help, of the international community, especially the big players, it is not possible to resolve even the most trivial of issues, let alone the complex issue of climate change.
Not surprisingly, the naysayers - that is, climate skeptics - have been rejoicing at the absence from the conference of Chinese President Xi Jinping, Indian Prime Minister Narendra Modi and German Chancellor Angela Merkel, and they have been quick to call it a "failure". They even claim, quite shamelessly, that the New York rally, one of the biggest on climate change, was a "damp squib", as were others in many other cities around the world.
Xi didn't attend the conference. But Chinese Vice-Premier Zhang Gaoli did, and issued one of the most concrete statements at the meeting. Zhang talked about measures to be taken after 2020 to combat climate change, making China perhaps the first country to do so. He talked about fixing a date when emissions will peak, apart from reiterating that China remains committed to curbing carbon dioxide emission per unit of GDP by 40 to 45 percent from 2005 levels by 2020.