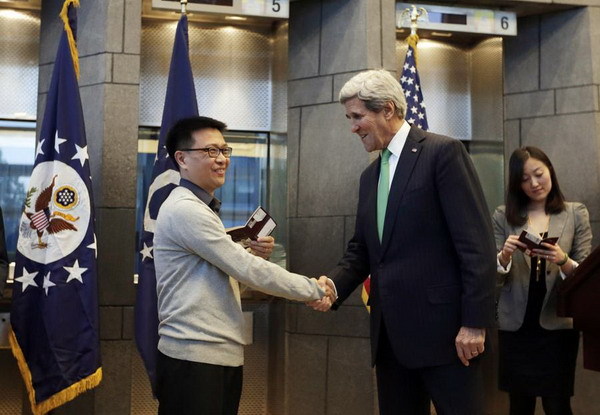 IBM employee Yang Bo shakes hands with US Secretary of State John Kerry (2nd L) after being the first Chinese citizen to be issued a ten-year visa, and receiving it from Kerry during a ceremony at the US embassy in Beijing, Nov 12, 2014. China and the US will grant each other's citizens multiple-entry business and tourist visas with a maximum validity of ten years, Xinhua News Agency reported. [Photo/Agencies]
For some media outlets in the United States, President Barack Obama's trip to China this week was defined by his chewing gum while stepping out of a limousine and the subsequent comments by Chinese bloggers, or his awkward interaction with Russian President Vladimir Putin. The substance of the trip has largely been ignored.
But it is fair to say that with the relatively low expectations after the somewhat downward spiral of the bilateral relationship over the past year, Obama's trip has produced many surprising and important agreements, ranging from climate change to a military-to-military confidence building mechanism.
While all the agreements will have a significant global impact, perhaps the visa agreement first announced by Obama on Monday will prove to be most important deliverable of this visit.
People who travel often between the two countries have to renew their visa every year. This entails filling in a lot of annoying paperwork and a long wait. This is especially true for businesspeople, students and the growing number of tourists.
The two countries won't solve the many thorny issues between them in one week, but the visa agreement is a big step in promoting more people-to-people exchanges and thus more mutual understanding, making solving problems easier in the future. Misunderstanding and miscalculation have been attributed as major causes of the problems between the rising country and the incumbent power.
Many Chinese still get their knowledge of the US from Hollywood movies, a dramatized version of reality, which explains why some Chinese see the US as a place where you can pick up gold on the streets or a society rampant with crimes and gun violence. These, plus the often sensational news headlines, have played a major role in shaping public opinion.