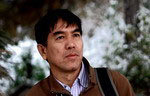 Oh, how beautiful the autumn sky is and how fresh the air is!
This is how most Beijingers feel these days.
"I hope the APEC blue will remain, and I believe, through the efforts we continue to make, it will."
This was President Xi Jinping's response to the sarcastic comments being made about the lovely blue sky Beijing has enjoyed during the Asia-Pacific Economic Cooperation week.
He made the remark when he delivered a speech at a welcome dinner for the APEC leaders on Monday.
Xi said it was the efforts of some localities and departments that had resulted in the current clear days and fresh air in the capital, and he thanked all the participants at the meeting, saying it had prompted China to show stronger resolve and greater efforts in protecting the ecology.
It will make the Chinese government do a better job in protecting the ecological environment in the future, Xi said.
Indeed, without the measures, such as the suspension of production by factories in neighboring cities and cutting the number of motor vehicles on road by half in Beijing and neighboring cities, it can be questioned whether Beijingers would have seen blue sky on so many consecutive days.
Those who drive have also appreciated the lack of congestion on the Third and Fourth ring roads and even some downtown streets.
It was perhaps inevitable that a term such as APEC blue would emerge to describe the crystal clear blue sky that is such a rare sight in the capital on so many days in a row.
Yet despite the irony and sarcasm expressed with this phrase, most people in the city are in a good mood thanks to the beautiful sky. And behind the irony and sarcasm is the wish that this will continue.
However, it is likely to change after the APEC meeting when most of the factories in neighboring cities will resume production and the car restriction measure will no longer be in operation. Particularly since winter has come, and the weather conditions on most days will not be conducive to dispersing smog.