Editor's Note: In China, people are expected to obey their parents and respect their elders. Some people argue, however, that blindly following the advice and examples of those who are older may lead to unreasonable decisions. Should respect be given to someone just because they are older? Forum readers have shares their views, and yours are also welcome.
messi30 (US)
Respect not only applies to the elderly but to everybody. I don't think disagreeing with elders or parents shows a lack of respect.
What about if they are wrong? Should you keep quiet or let them know?
Any observation or correction should be expressed with respect so youngsters avoid the older person misunderstanding them as being disrespectful.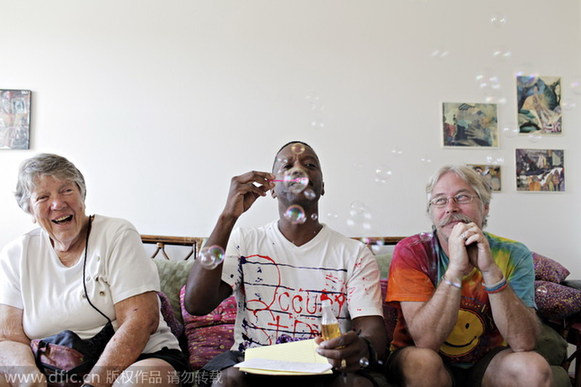 The Elders Work Group of Occupy St. Pete met Thursday to discuss future plans to stamp dollar bills with "Corporations are not People" and "Money is not Speech" slogans at the Saturday Morning Market, as well some creative things, like street theater, they can do as the RNC draws closer. Flanked by Dorothy Byrne, 83, left, and Lenny Flank, 51, right, Wendell Wilson, 54, center, joked at the end of their meeting "just remember we always have bubbles" as he pulled a bottle of bubble solution out of his backpack and demonstrated how they never fail to make everyone smile,

Aug. 9, 2012. [Photo/IC]