"Continued emission of greenhouse gases (GHGs) will cause further warming and long-lasting changes in all components of the climate system, increasing the likelihood of severe, pervasive and irreversible impacts for people and ecosystems," says the IPCC report, which will get its final shape after governments and scientists go through it thoroughly at a conference on the Durban Platform for Enhanced Action in Bonn in October.
But before that, UN Secretary-General Ban Ki-moon has invited world leaders, from governments, civil society, and financial and business sectors, to a special climate summit in New York to galvanize and catalyze climate action.
The outcome of the New York conference can be in doubt, but the IPCC report says without any doubt that climate change will worsen violent conflicts and refugee problems, and could hamper efforts to grow more food. If we do not reduce GHG emissions, "climate change risks are likely to be high or very high by the end of the 21st century".
In 2009, countries across the globe set a goal of limiting global warming to about 2 C above current levels by the end of this century. It seems they have already failed to honor that agreement because, as the report says, temperatures are more than likely to shoot past that point by the middle of this century.
These are one set of facts. The other is corporate interest. The ecological revolution needed to prevent our planet from spinning out of control is not possible as long as corporate interests take precedence over the environment and thus the very existence of the human race or, for that matter, all life forms. In our pursuit of economic growth, we have broken out of the natural circle of life and entered a man-made linear production system where most goods are produced to be discarded after being used only once, polluting the already heavily polluted land, sea and air, because such an arrangement best suits economic growth.
Unbalanced urbanization and rampant overexploitation of resources, which have become the norm across the world, if not stopped, can only lead to doom. If governments across the world are really serious about securing the future of their people, as opposed to paying just lip service, they have to stop serving the interests of corporations and change the pattern of production.
Since the more goods we produce the more we destroy nature, we have to strike the right balance between production and environmental protection. Or else, as the IPPC report says, we will seriously "risk" the future of humans.
The author is a senior editor with China Daily. oprana@hotmail.com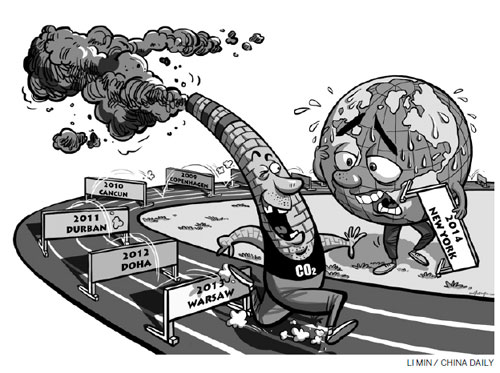 (China Daily 09/20/2014 page5)