angus (UK)
My personal feeling is that sex education is something that should start naturally in the home as children become more aware of differences between males and females. As educators, we need to educate children through their families first. In this way, we can ensure that the moral guidance that should go with sex education is cohesive, and reinforces traditional sexual norms.
If this subject is to be taught in schools I certainly agree with an age-appropriate approach. Primary school children should be made aware of the external difference of the sexes but not necessarily the biological functions. If we wake sexuality too soon we see an increase in sexual activity among teenagers, which eventually becomes normalized as it has in many countries including the US and UK, where teenage pregnancy in school children is commonplace.
The problem we have in the west is we teach sex education without regard for morality, so it becomes openly fashionable and peer pressure leads to early sexual activity.
Sex should not be promoted as cool or fun, it should be seen as a serious activity with lifelong consequences. We should teach sexual responsibility when we teach the biological functions and we should reinforce this through the family.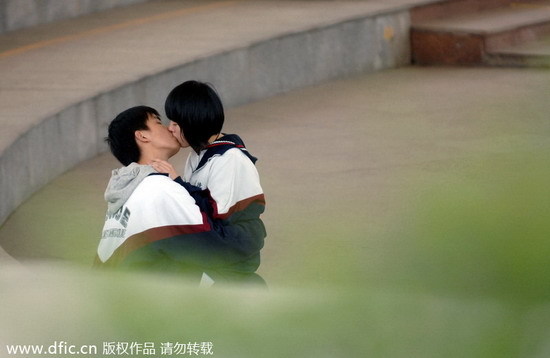 Two middle school students kissing on the street of Changsha in 2010.[Photo/IC]
The original piece: http://bbs.chinadaily.com.cn/blog-1355609-18849.html