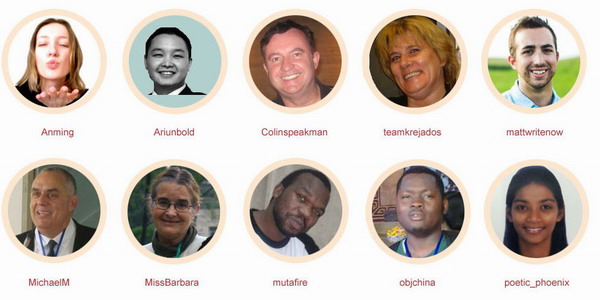 Top 10 most popular bloggers for the first contest season.
It all started simply enough: China Daily built a blog platform and invited expats to share their China stories. We put some prizes out there to boost interest, and the rest is pretty much history.
From the launch in March to the final countdown last month, more than 500 foreigners from 48 countries and regions took part in the first ever China Daily blogging contest.
By the end of May, more than 10,000 pieces from our bloggers were posted, driving traffic on the China Daily website to record numbers. That's what you call a good turnout.
These first-hand accounts from foreign bloggers were usually vivid, always informative, and soon became part of an important portal for foreigners and Chinese English learners to make friends and share cultures.
As one of our bloggers, laxmi lamsal from Nepal, wrote, "I can feel the friendly atmosphere here, freely and irresistibly we share our experiences, knowledge, thoughts and achievements in this family. Besides, the replies from the brothers and sisters encourage me to write more."
That's well said, but this was still a competition with serious prizes to be had. Based on votes from readers and China daily's senior foreign experts, the final winners were selected.
The champion was Anming, a student from Austria who lives in Beijing.
The contributions are both interesting and witty showing original thought rather than simply regurgitating standard 'foreigner in strange country' material. The writer displays knowledge of China but her blog is not exclusive to those of us with Asian experience, appealing equally to readers who have never set foot in the region. She flits like a butterfly from topic to topic and sometimes risks getting lost in a rush of garbled thoughts that must be quickly committed to the computer keyboard. From fashion to moles, sex, drugs and rock 'n' roll they're all here and part of student lifestyle.
The runner-up was Ariunbold Bayarsaikhan of Mongolia, also a student who is studying at Liaoning University.
His English isn't perfect but Ariunbold is a lively writer whose words and photos paint vivid pictures of everyday life in contemporary China, particularly in the blog post about Chinese street food. You can hear the food sizzling on the grill and the scent of garlic and fresh vegetables frying in a pan waft over you. The photos really reinforce what's described in the blog entry. His entries also educate the reader and posts serve as public service announcements to readers unfamiliar with his topics. Moreover, he obviously really makes an effort in his blog posts. It's not just ranting or pontificating about something.
Matthew Manning, an American teacher living in Suzhou, took the prize for third place.
Writing with honesty and humor, our American blogger Mattwritenow has carved out a following for himself among China Daily readers. Whether he's posting about safety issues or sweet potato vendors, Mattwritenow brings a rare blend of curiosity and cultural sensitivity to his subjects. We see China through his eyes, and it's a beautiful sight.
Colin Speakman, a British educator in Beijing, was honored for his dedication and contributions.
There is a rumor in the China Daily newsroom that our blogger Colinspeakman spends more time on our website than we do. The Beijing-based economist and educator has logged 708 hours since Feb 22, breaking down to 6.1 hours per day. Colinspeakman brings class to the Internet, responding to all comments and tackling tough topics with grace and insight. We love him! And so do our readers.
The second season(More info) runs from July 1 to Sept 30. To make it to the voting stage, each contestant is required to contribute at least four blogs a month to the China Daily website and keep it for three months. We invite expats who live in China to join us. This time the prizes could be yours!