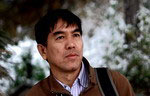 A Chinese translation of Allen B Jacobs' The Good City - Reflections and Imaginations was published in January. That its publication coincides with the release of the Chinese government's new urbanization plan is timely, as it poses the question what a good city should be like.
One of the world's best known planners and urban design practitioners, the writer contends that cities should be places where people can be fulfilled and where they can fulfill their potential. They should be places where there is freedom, love, ideas, excitement, quietness and joy.
His book would be a good read for China's urban planners and local leaders, whose perception of a good city will have a strong bearing on the future of this country's new urbanization, which is expected to turn about 100 million rural villagers into urban dwellers in the coming six years.
Oscar Wilde said that society exists only as a mental concept, in the real world there are only individuals. China's new urbanization should let the majority of individuals benefit from the urbanization process.
In fact, there is only one criterion about whether a city will be good or not when the country's new urbanization process is complete by the year 2020, and that is whether the new urban dwellers enjoy their lives in the city they live in.
I do not doubt the ability of China's local leaders and urban designers to make magnificent plans for urban development. Neither do I challenge their capability to conceive skyscrapers and huge squares and other landmark structures.
What I worry about is the lack of attention to some seemingly small things that will greatly compromise the quality of life for urban dwellers in the long run.
Drainage systems, for example, have long been a headache for cities such as Beijing and almost all the provincial capitals. These poorly designed systems paralyze traffic whenever there is a rainstorm, and most of the systems discharge sewage directly into waterways in the vicinity of these cities resulting in water and soil pollution.
Garbage classification and disposal is another issue that poses a serious threat to the healthy develop-ment of many Chinese cities, including the capital, where only a small percentage of garbage is classified and less than 70 percent of waste is reportedly disposed of in the manner that has no negative impact on the environment.