Hechi is in the northwest part of Guangxi and the south of Yunnan-Guizhou Plateau on an important route to the coast. It has beautiful scenery, breathtaking mountains, caves and water.
In recent years, people in Bamu township in Tian'e county in the city of Hechi have been devoted to turning their green mountains into a way of generating income to fuel their poverty alleviation efforts, producing promising results.

The healthcare security bureau of Hechi has been devoted to solving medical problems for impoverished people in recent years.

The chrysanthemums at the Dashapo poverty alleviation industrial park in Huanjiang Maonan autonomous county in Hechi entered the harvest season recently.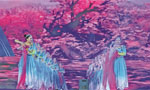 Hechi holds 10th Liu Sanjie Cultural Tourism Festival
The 10th Liu Sanjie Cultural Tourism Festival started in Hechi on Oct 18 and will last until Nov 30.
。
。