Hechi is in the northwest part of Guangxi and the south of Yunnan-Guizhou Plateau on an important route to the coast. It has beautiful scenery, breathtaking mountains, caves and water.
Road construction is booming in Hechi's Donglan county, and helped the county shake off poverty as scheduled in 2020.

Hechi's Bama Yao autonomous county is aiming for a total investment of 2.05 billion yuan ($318 million) in 2021.

The city of Hechi will continue to work toward becoming a "national forest city" this year.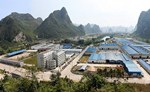 Dongjiang Industrial Park
Dongjiang Industrial Park was established in June 2003 and was rated as an A-type industrial park of Guangxi in December 2007.
。
。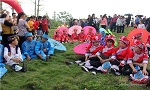 Folk songs of the Mulao ethnic group
The folk songs of the Mulam ethnic group are collectively created by the Mulao people.
。
。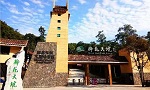 Four self-driving travel routes created
The Hechi culture, tourism, sports, radio and television bureau has launched four self-driving tourism routes with different themes, including revolutionary traditions, folk customs and rural tourism.
。