One-day travelling routes in Yizhou
By (chinadaily.com.cn)
2019-11-18
Yizhou, a district in the city of Hechi, Guangxi Zhuang autonomous region, is renowned as the hometown of Liu Sanjie, a legendary female folk singer of the Zhuang ethnic group. As a result, it has made increased efforts to promote its cultural tourism in recent years.
A variety of top-quality travelling routes integrating Yizhou's traditional culture and splendid natural scenery have been launched to enable tourists to experience the beauty of the place.
Here are some one-day travelling routes in Yizhou.
Cruise Tour
1. Route: Longjiang River (龙江河/Longjiang He) – Xiajian River (下枧河/Xiajian He) – Zhuanggulao Scenic Area (壮古佬风景区/Zhuanggulao Fengjing Qu)
2. Price: 55 yuan ($7.85) per person (at least 16 people for departure, return ticket not included)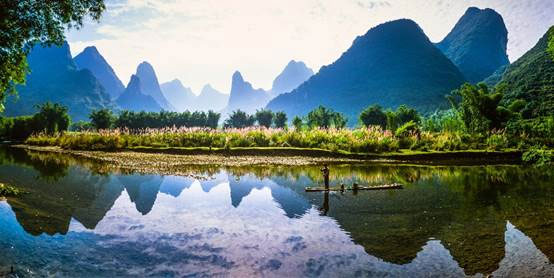 The Xiajian River meanders through the lush green scenery of Hechi. [Photo/xinhuanet.com]
Scenic Area Tour
1. Site: Jinlang Bay Scenic Area (金浪湾景区/Jinlang Wan Jingqu)
2. Activities: More than 20 outdoor training activities, including high altitude abseiling; visiting the Lalang Hydropower Station, the largest hydropower station in the upper stream of the Longjiang River; jungle paintball
3. Price: 120 yuan per person (round-trip fare and lunch fee included)
Rafting Tour
1. Route: Gulong Gorge Rafting Scenic Area (古龙漂流风景区/Gulong Piaoliu Fengjing Qu) – Huangguan Mountain (皇冠山/Huangguan Shan) – Liumei Village Wharf (六妹村码头/Liumei Cun Matou)
2. Price: 65 yuan per person (round-trip fare not included)
Nature and Culture Tour
1. Route: Xiangbei River Scenic Area (祥贝河景区/Xiangbei He Jingqu) – Water Curtain Cave (水帘洞/Shuilian Dong) – Lizhi Karst Cave (荔枝洞/Lizhi Dong)
2. Price: 30 yuan per person (round-trip fare not included)