6 places in Guangxi for graduation trips
By (en.gxzf.gov.cn)
2020-07-27
With the conclusion of the 2020 zhongkao (senior high school entrance exam) or gaokao (college entrance exam) and the start of summer vacation, school grads are able to set out on their graduation trips. Here are six of the best places to visit in Guangxi Zhuang autonomous region, of which some of them are giving special offers to school grads.
All six destinations can be reached by bullet train and those who are interested can buy tickets through the online railway ticket-booking platform 12306.
1. Yangshuo county, Guilin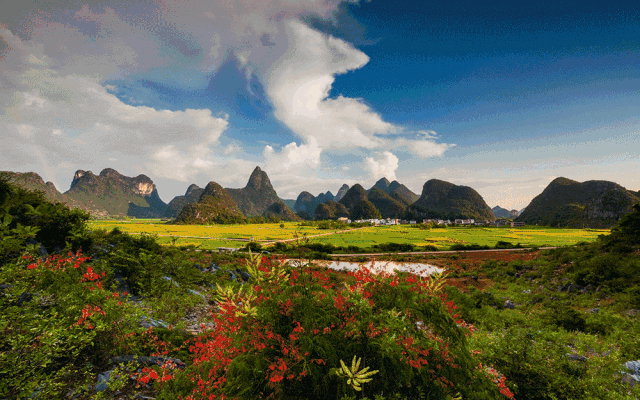 Beautiful scenery of Guilin. [Photo/gxnews.com.cn]
Yangshuo county in Guilin, Guangxi Zhuang autonomous region is 65 kilometers away from the urban area of Guilin, and spans a total area of 1,436 square kilometers. The county has 15 attractions, such as the Lijiang River Scenic Area, Impression Sanjie Liu, and Jianshan Temple. Among them, the Lijiang River is the most famous attraction.
The Lijiang River is as beautiful as a classic Chinese ink and wash painting. The 83-km journey from Guilin to Yangshuo is like a green belt wriggled between extraordinary mountains with an incredible natural landscape, crystal water, inverted images of hills, deep pools, murmuring springs, and waterfalls, forming a picturesque view of the typical Karst landform of the northeastern part of Guangxi.
The path from Guilin to Yangshuo is an endless symphony of bizarre shapes and unique landforms, along which the river flows around the mountain where one can see canyons, karst caves, and spectacular natural views. The untouched scenery of Caoping, Yangdi, and Xingping is a must-see for visitors, offering views of waving stones, picturesque hills, and the sunset image of karst formations reflected in the river.
Inverted images are a natural wonder of the Lijiang River. The moving water adds dynamic life and soul to the mountains, bringing people to a world of mythology. The Lijiang River is not only renowned for its unique scenes, such as cyan mountains, crystal water, fantastic caves, and beautiful stones, but also green islets, sand beaches, deep pools, and waterfalls. The landscape of the Lijiang River varies according to the time, location, and climate.