Hechi continues efforts to become 'national forest city'
By (chinadaily.com.cn)
2021-05-19
The city of Hechi will continue to work toward becoming a "national forest city" this year. In 2020, the city's forestry output value was 3.38 billion yuan ($525 million), representing a year-on-year increase of 4.1 percent, officials announced during a recent municipal forestry meeting.
A national forest city refers to any city where the urban ecosystem is dominated by forest vegetation and the construction meets the requirements set out by the national forestry authority.
A total of 5.15 million trees have been planted by volunteers in Hechi, increasing its afforestation area by 338,200 mu (22,546.7 hectares), with a completion rate of 131.8 percent.
Hechi has recovered 97,600 mu of encroached forestland, completing its target by 125.6 percent. Three wetlands: Nandan Laxi National Wetland Park, Donglan Pohao Lake and Du'an Chengjiang, were included in a list of the first batch of important wetlands situated in Guangxi Zhuang autonomous region.
The city has developed a forest economy on 11.62 million mu of land, with an annual output value of nearly 10 billion yuan. Going forward, Hechi plans to continue with reforms to the collective forest tenure system, and aims to fully implement the system of "forest chiefs" to protect its natural resources.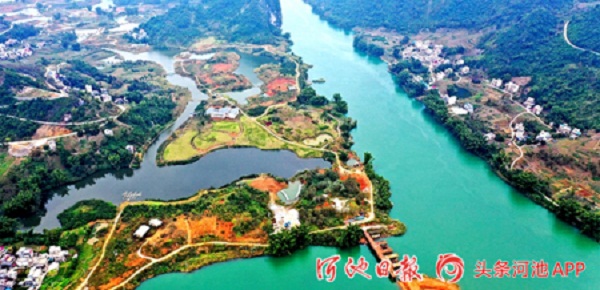 An aerial view of Pohao Lake National Wetland Park in Donglan county, Hechi. [Photo/Hechi Daily]