Hechi adds 8 national 4A tourist attractions
By (chinadaily.com.cn)
2021-04-21
Eight tourist attractions in Hechi, Guangxi Zhuang autonomous region, have been included on the 2020 list of national 4A-level scenic areas, putting the city first in Guangxi Zhuang autonomous region in terms of its number of new 4A-level scenic areas in 2020.
Here are some brief outlines of these eight attractions.
Colorful Maonan Scenic Area
Colorful Maonan Scenic Area is located in Huanjiang Maonan autonomous county, covering an area of about 3,200 mu (213 hectares). The overall style of the scenic spot is characterized by ethnic Maonan cultural elements.
This area combines sightseeing, cultural experiences, leisure and entertainment. Tourists can experience a night tour along the river, enjoy the magnificent scenery, and get a closer look at the colorful culture of the Maonan people.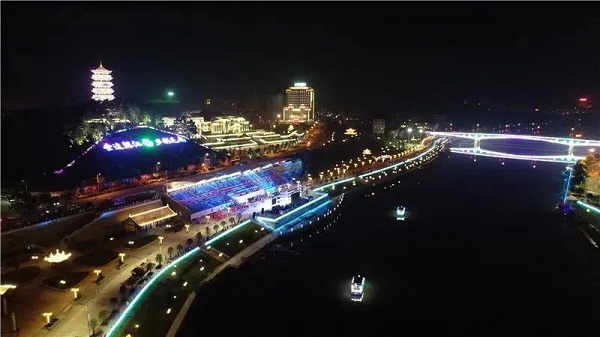 Night view of the Colorful Maonan Scenic Area. [Photo/ Hechi Daily]
Du'an Miluotuo Park
Located in Hedong district, this park covers an area of more than 100 mu. It has become an important place for sightseeing, leisure, vacations, entertainment, and tourism for locals and tourists of all ethnic groups.
The overall style of the park embodies the ancient and profound culture of the Yao people, with constructions featuring antique, wooden, and bucket arch structures.
The rivers and lakes give the park a tranquil feel, while the wind and rain bridges, waterfalls, and eccentric stones help make the park even more magnificent.
Hongshui River Art Gallery
Zhuang and Yao peoples have lived on the banks of the Hongshui River for generations. With the construction of the Dahua Hydropower Station, a gorge reservoir 300-500 meters wide and 30-50 meters deep was formed here.
The peaks on both sides of the Hongshui River, characterized by karst landform features, stand upright. With lush bamboo trees, peaks, bamboo bushes and clouds reflected in the river surface, the landscape of this scenic spot is magnificent.
Donglan Zhuang General Memorial Park
Located in Nongying village, Sanshi town, Donglan county, this memorial garden was built to commemorate the 100th anniversary of the birth of General Wei Guoqing.
The park functions as a "red tourism" experience and is also good for health and leisure, making it a rare multi-functional tourist attraction.
First Bay of the Hongshui River
While flowing through Donglan county, Hongshui River twists into a big U-shaped bend. The channel of the First Bay of the Hongshui River is narrow, often shrouded in mist, forming a magnificent landscape. The wetland bordering the river is a paradise inhabited by migratory birds.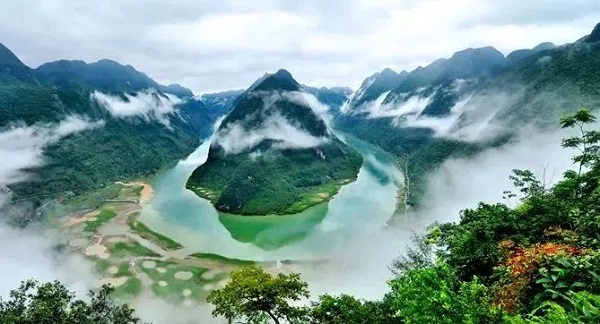 First Bay of the Hongshui River. [Photo/Hechi Daily]
Danlu Mountain Scenic Area
Danlu Mountain Scenic Area is located in Nandan county, at an altitude of 830 meters. It contains a magnificent and well-preserved Ming Dynasty (1368-1644) site, with nearly 4,000 characters inscribed on tablets.
There are natural landscapes and idyllic canyon scenery in the scenic area, along with newly-built infrastructure such as walkways, suspension bridges, commercial streets, and homestays, making it a tourist attraction integrating leisure, health care, sightseeing, and discovery.
Renshou Resort
Located in Bama Yao autonomous county, Renshou Resort is a tourist attraction based on the story of Deng Chengcai, a local man who lived a long time. It has a wooden plaque with four Chinese characters, "Wei Ren Zhe Shou", meaning "only those who are kind enjoy a long life." It used to be home to Deng Chengcai, who was considered immortal because he was so old and still so healthy. Deng was so renowned that Emperor Guangxu (1871-1908) of the Qing Dynasty (1644-1901) told the military commander of Guangxi to give Deng the board with the four Chinese characters inscribed on it in 1898.
Chengjiang National Wetland Park
Chengjiang National Wetland Park covers an area of 864 hectares. It is a scenic spot with unique karst landscape features, as well as abundant wetlands and minority cultures.
Tourists can try their hand at traditional farming and enjoy leisure vacations here, and the scenic spot is also used to carry out wetland scientific research.