Learning by helping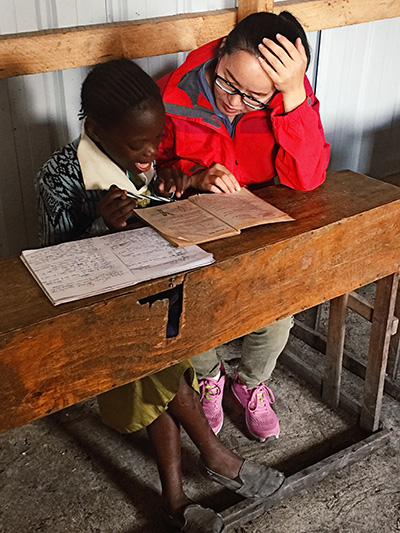 A volunteer helps a local child with her studies. [Photo provided to China Daily]
Making it happen
Volunteerism sparks adventurers' wanderlust while meeting their desire to make a difference. Don't know how to get started? Here's a guide:
Know your needs
Before planning your trip, ask yourself if you want to be a skilled or unskilled worker. Skills-based volunteering includes teaching, engineering and research while unskilled work varies from farming to wildlife conservation. Often, focusing your expertise in voluntary work yields more satisfactory results.
Where to go
According to Student Universe, one of the world's leading travel companies targeting the youth, Brazil, Peru, Zambia, Costa Rica, South Africa, Thailand, Kenya and Cambodia are some of the top destinations for volunteer tours.
Language proficiency
There is a misconception that you have to be fluent in the local language to volunteer: You can still do many things with limited language skills in a foreign country. Plus, immersion is one of the best ways to study a new language.
"You don't need to worry too much in terms of language before entering the country," says former Lonely Planet China consultant Zheng Kaifeng. "Volunteering abroad can boost your language skill as you are more likely to push yourself to think and speak in different languages."