Visitors to heart of Beijing get personalized help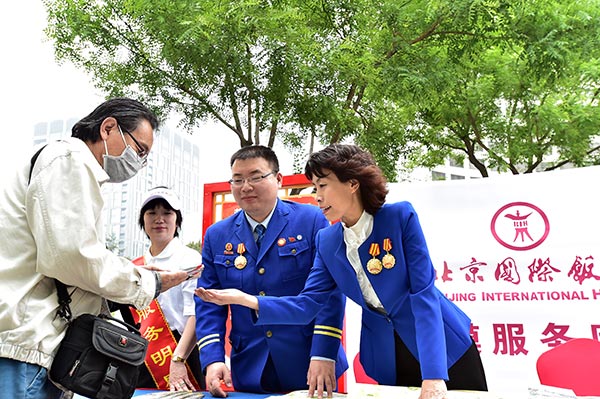 Volunteers help sightseers in Beijing. [Photo provided to China Daily]
For sightseers, finding the best route to places they want to visit in central Beijing can be difficult sometimes, especially for those who can't access digital maps on smartphones.
During the May Day holiday, a team of about 100 volunteers established a service base on East Chang'an Avenue to offer free directions for visitors seeking such help.
The volunteers are staff members from Beijing International Hotel, a five-star hotel on East Chang'an Avenue, and staff members from management at the Zhaojialou Street community office.
Duan Xuefei, who works for the hotel and won the model worker of Beijing award last year, led the team with another national model worker, Zhang Queming.
Duan says she feels happy to be able to help visitors coming to Beijing, and the volunteer team will continue to offer the service on weekends and major holidays.
Related:
Actress earns fame for volunteer teaching
Student volunteer gets up close and personal with China's giant pandas