Student volunteer gets up close and personal with China's giant pandas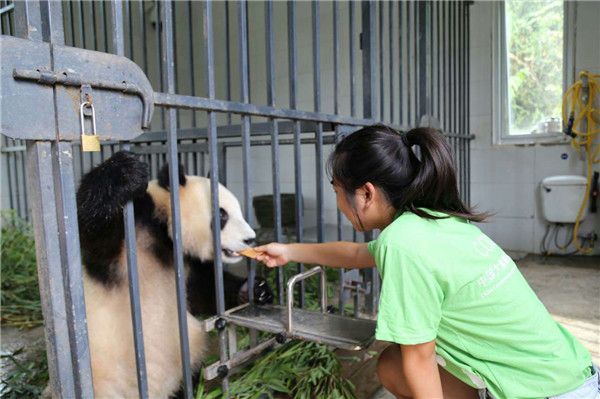 Julie Guan gets up close and personal with China's giant pandas. [Photo provided to chinadaily.com.cn]
Julie Guan is a sophomore Chinese-American who has lived in the United States all her life. She returned to her family's original homeland this summer and visited Chengdu's China Conservation and Research Center for the Giant Panda to volunteer.
As I sweep up scattered bamboo leaves inside a cage, a black and white shape behind me watches my every move with curious dark eyes. The shape is that of China's most famous animal, the giant panda – a creature I have only previously seen on television or in pictures.
This summer I volunteered at the China Conservation and Research Center for the Giant Panda in Sichuan and had the once in a lifetime chance to get within three feet.
Born and raised in America, very rarely had I ever seen a panda. In the United States, there are no such things as wild giant pandas. I had anticipated this moment ever since my mother told me that we would be volunteering at the center.
When my cousin and I arrived at the facility and received our uniforms and gloves, any nervousness I had felt during the car ride quickly faded and morphed into excitement. We filed into the volunteer cart and waited for the driver to take us up a hill to the panda cages.