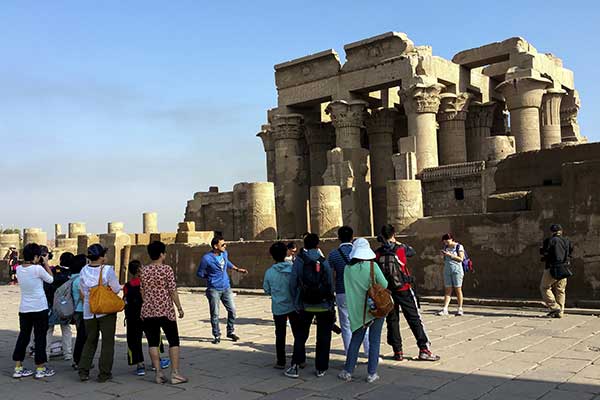 Chinese tourists at Temple of Kom Ombo in Egypt. More than 115,000 Chinese visited the country in 2015.[Photo by Du Du/China Daily]
The spending power of Chinese tourists is now making foreign destinations work hard for their attention.
At the China Outbound Travel and Tourism Market held in Beijing over April 12-14, a total of 400 exhibitors displayed their latest travel products.
Red-wine tours, cruise trips, shopping, hiking and adventure holidays were the highlights of the event's high-end travel section.
Greece, Israel, Namibia, Ukraine and Andorra made their debuts at the expo.
The Egyptian Tourism Authority has launched cruise trips on the Nile, leisure events along the Red Sea, self-drive tours in the desert and golf tours to woo the Chinese who are willing to spend for high-end experiences.
More than 115,000 Chinese visited the country in 2015, putting China in sixth place in Egypt's tourism ranking, says the tourism counselor at the Egyptian embassy in Beijing, Shaarawy Abu.
The country is hoping to ride the buzz created by the China-Egypt tourism year to attract 200,000 visitors to the country this year.
Egypt Air has increased weekly flights between Guangzhou in Guangdong province and Cairo to seven, and the tourism authority is pushing for more flights from Beijing to Cairo, says Abu.
"In addition, charter flights connecting Beijing, Shanghai and Chengdu in Sichuan province to Egypt are operational," he adds.
Israel is also wooing Chinese tourists.