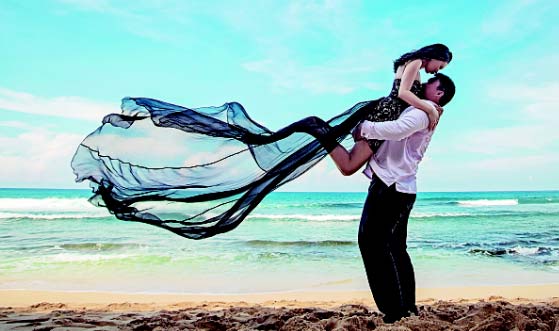 Swept off her feet: Deng Yu and Cui Chenqi on the beach in Bali, where Deng first bought her a gift. Photos provided to Shanghai Star
A reassuring voice on the other end of a phone call captured the heart of this Harbin native. Zhou Wenting listens in.
His voice made her feel safe after she landed late at night on an exotic island surrounded by foreigners. His warm tones altered her track in life, and in time took her to a city which she had never been to.
It started in Phuket, Thailand, in the spring of 2010.
The resort group for which Cui Chenqi worked assigned her to a training program there. It was after midnight when her plane landed and she missed the pick-up from the company.
"It was my first time abroad and people coming and going all looked different from me. I was overwhelmed with terror, and miserable scenes of what may happen to me plagued my mind," says Cui, who is from Harbin, Heilongjiang province. She was only 24 years old then.
She plucked up her courage to borrow a phone from a local and called the company, but she couldn't understand the telephone operator's Thai English at all.
"The woman gave the phone to a Chinese colleague and that was the most adorable sound Id ever heard. It calmed me down," she says.
Cui arrived safe and sound at the residence at 4am after a car came to pick her up, and during the journey, she dozed o. with the expectation of meeting the guy who spoke to her on the phone.