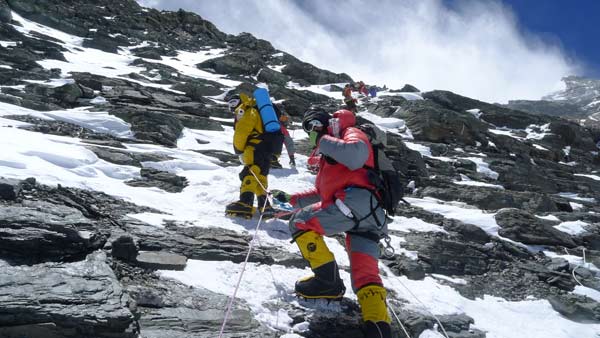 The China University of Geosciences team climbs Mount Qomolangma in 2012.The team is hoping to complete the '7+2' challenge. Photos provided to China Daily
A Sino-Tanzanian mountaineering team encountered the worst storm on Mount Kilimanjaro in 20 years during a climb to mark the 50th anniversary of diplomatic relations, Liu Kun reports.
One of the unwritten rules for climbing Mount Kilimanjaro is that climbers start the final section at 1 am, reaching Gillman's Point in time to catch the sunrise at 6 am. From there it takes another two hours to reach the top of the highest peak.
For Sha Lei from Dalian, the climb up to Gillman's Point was "hellish".
"The wind was howling and big snowflakes hit me in the face so often I couldn't keep my eyes open. At one point I had to pull myself out of a snow-covered hole with all my strength."
She could hear one of the climbers crying out, "I'm dying, I'm dying"-although she realized he was chanting this as a mantra to reassure himself he wasn't. With Sha's body being tested to its limits, her mind went blank. But she kept moving forward, constantly telling herself-"You can do it."
And she did, despite the fierce storm that lashed her and her fellow climbers as they fought their way up the mountain.
Wang Yongfeng, one of China's most famous mountaineers, says it was the worst storm on the mountain in 20 years; the wind was estimated at force 10, and visibility was close to zero.