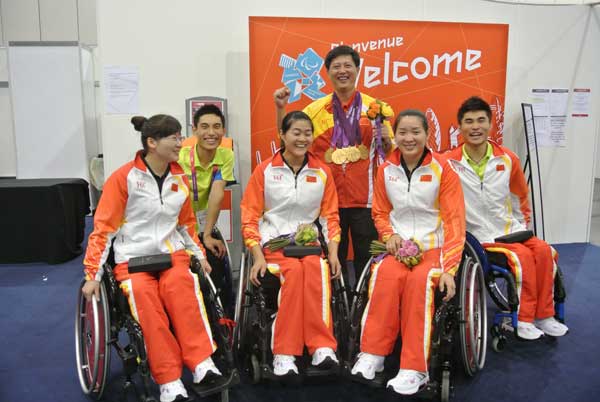 Heng Xin's students pocketed eight gold medals at the 2012 London Paralympics. Photo provided to China Daily
Heng Xin, 49, failed to realize his dream of becoming a professional athlete or an Olympic medalist, but he believes he has gained more by being a coach of disabled ping-pong players.
"I just wanted to help them to take exercise at first, and Olympic medals were like a weak light shining so far away," says Heng, a coach for China's Paralympics ping-pong team and a teacher at a sports school in Xuzhou city in East China's Jiangsu province.
His disabled students pocketed seven golden medals at the 2008 Beijing Paralympics and eight more at the 2012 London Games.
In 2000, Heng, then a worker at a local waterworks and an amateur ping-pong player, visited a rehabilitation center for children with polio in Xuzhou. He said he was "overwhelmed by depression" seeing so many kids confined to wheelchairs or relying on crutches.
After learning of their interest in sports, Heng, who ran a private ping-pong club in his spare time, volunteered to start a ping-pong team for 26 students at the center, despite having no previous experience training disabled people or any idea of the disability categories athletes are divided into according to their level of impairment.
They set up the tables in a tent, but Heng soon found it was impossible to use the same teaching methods he used at his club with the disabled students, as they were unable to do the basics, such as pulling their chests and stomachs in, or even warming up.
"Sitting in their regular wheelchairs, instead of sports ones, they could only rub their hands together to warm up while the rest of the body stayed the same, so they all suffered from chilblains in the harsh winter of northern Jiangsu," Heng says.