Charity fills rural schools with music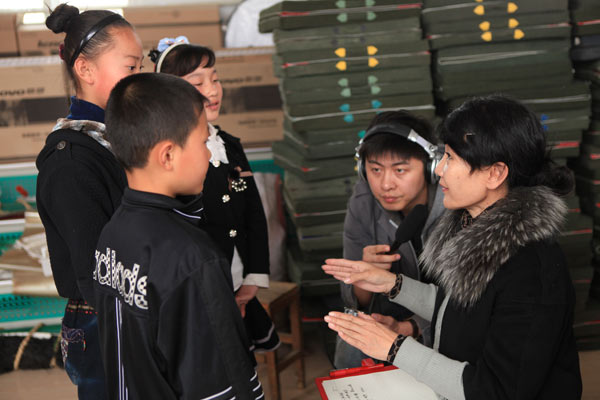 Yao Jiange selects students with potential in music at a rural primary school in Dalian. Photos provided to China Daily
Dalian radio takes the joy of sound to classrooms in poor communities. Zhu Chengpei and Zhang Xiaomin listen to the spirited volunteers who make it happen.
'Why so serious? Come on, when the photographer counts 'one... two... three', let's say 'qiezi' (eggplant) together," Yao Jiange calls out to dozens of people posing for a group photo at a recent charity event in Dalian.
The 51-year-old has a gift for sparking cheerful chatter and laughter wherever she goes.
Yao is a promoter of the charity project Sound of Yida - Love Music Classroom.
Initiated in April 2011 by Dalian Music Radio (FM1067), Dalian Charity Federation and Dalian-based Yida Group, the project aims to put music rooms in rural primary schools.
Including the 10 that were donated on March 25, the charity has set up 50 music rooms, each equipped with a piano, some clarinets, harmonicas and some percussion instruments in Dalian and Chao-yang, cities in Northeast China's Liaoning province.
"I regard this project as a continuation of my musical life," says Yao, once a coloratura soprano.
After graduating from Liaoning Educational Institute with a music degree in 1987, Yao became a teacher at a technical school in Dalian. In 1995, she started hosting programs on Dalian Radio.
When she was elected director of Dalian Music Radio in 2008, Yao had an idea.