Transporting joy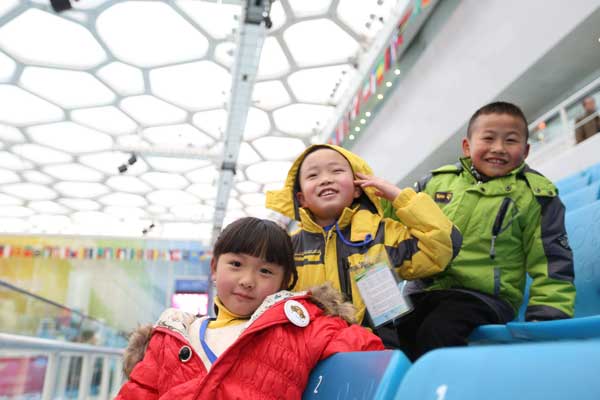 Children visit the National Aquatics Center in Beijing during the Spring Festival during a trip to the capital to see their parents with the help of the NGO Shunfengche. Photos Provided to China Daily
Thanks to the founder of NGO Shunfengche, 20,000 people were reunited with their family this Spring Festival - without any transportation costs. The beneficiaries share their joy and experiences with Sun Yuanqing.
Wang Jing had not spent the Spring Festival with her mother Deng Yingxiu, who works in a Beijing restaurant as a cook - for eight years. The long working hours at the restaurant during this time of year makes it impossible for Deng to take leave. "And it's so difficult for me to take time off to go to the railway station to line up for a ticket. And I do not know how to book it online," Deng says.
This year, however, Wang finally managed to see her mother for the holiday. With the help of Beijing-based NGO Shunfengche, she flew from the southwestern province of Guizhou to Beijing three days before the festival to celebrate the occasion with her mother.
"Every Spring Festival, I receive presents and phone calls from my mother. But nothing compares to seeing her and being with her," says 14-year-old Wang.
Spring Festival, the most important Chinese festival for family reunions, also sees one of the largest migrations on Earth as people in different parts of China, especially the big cities, travel back home.
The passenger flow during the Spring Festival this year reached a record high of 3.62 billion, 20 million more than last year. It can be extremely difficult to get a nonstop train ticket home, especially for "left-behind children" like Wang and her mother Deng, who neither have the means nor time.