'Spring' in the air for NGOs?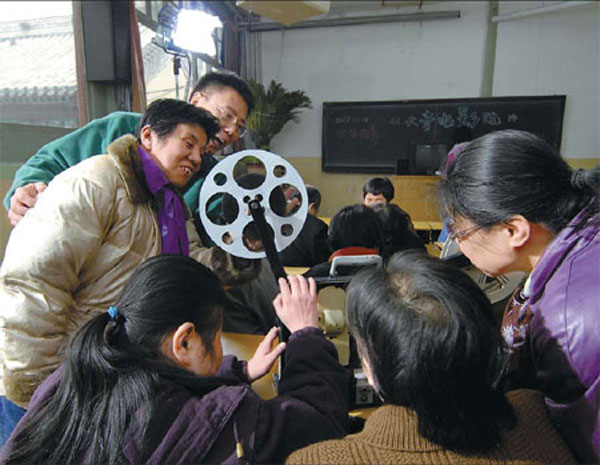 Visually impaired people learning about film projectors at the Beijing Hongdandan Educational and Cultural Exchange Center in 2007. Provided to China Daily
Reform of the rules on social organizations will expand their role in Chinese society, report Tang Yue and He Dan in Beijing.
In some ways, Zheng Xiaojie is the best storyteller in China. During the past decade, her narration and descriptions of on-screen events have helped thousands of blind and visually impaired people gain a better real time appreciation of movies.
However, this talkative woman always has a hard time explaining the organization she runs - Beijing Hongdandan Educational and Cultural Exchange Center. Established in 2003 by Zheng and her husband, Wang Weili, the organization is an NGO in all but name. It aims to improve the quality of life for the visually impaired and receives most of its funding through foundations and private donations.
But, despite being a nonprofit organization, Beijing Hongdandan is not an NGO; instead, it's registered as a business.
"I've lost count of the number of times we tried to register as an NGO, but it is extremely difficult under the current system," said Zheng.
Her dilemma is far from unique. According to existing laws, an organization needs to find an official government body to supervise its affairs before it's allowed to register with the civil affairs office as an NGO.
That, however, is almost mission impossible, especially for grassroots outfits. It is not the duty of government agencies to take charge of NGOs, and many are reluctant to do so because responsibility for any misconduct by the NGOs will be laid at their doors.
China has about 470,000 registered civil society organizations - associations of nongovernmental groups that provide services to the public - but the NGO research institute at Tsinghua University estimates that a further 3 million remain unregistered.