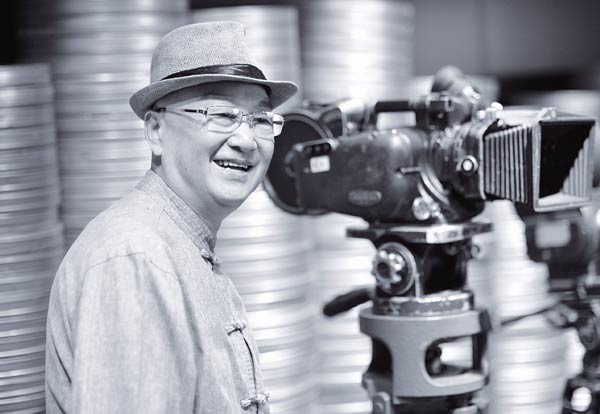 Inexhaustible aftertaste: Qiao Zhen finds voice acting more satisfying than physical acting. Photos provided to Shanghai Star
Qiao Zhen's acting career took an unexpected yet rewarding turn when he forayed into voice acting, until illness struck. But he's overcome the odds to make a triumphant return. Wang Ying meets the man behind the voice.
For Qiao Zhen, one of the most influential voice actors in China and director of the Shanghai Film Dubbing Studio, voice acting was an accidental detour for him, but it has become his lifelong love. On an early summer afternoon, in his living room decorated with calligraphy and Chinese paintings in Minhang, 72-year-old Qiao passionately and gratefully recalls his life and career as a voice actor.
Lifelong love
Qiao wanted to become an actor, and majored in stage acting. But when he unexpectedly landed a part-time job at the Shanghai Film Dubbing Studio in 1970, he decided to give it a go, making his first foray into voice acting.
"My first job was to dub The Red Shoes from English to Chinese, which totally piqued my interest in voice acting," Qiao recalls. Qiao says he was fortunate to land a first job with experienced voice actors and actresses including Qiu Yuefeng, Li Zi, Bi Ke, and Shang Hua.
"I was deeply moved by their work and professionalism during the film dubbing. They and their roles became one, and the acting of these foreign actors was so natural, delicate and fluent," Qiao says.
Believing he could learn a lot from voice dubbing while having great fun, Qiao decided to apply to become a voice actor full-time.
"It took five years before I finally got the approval, but throughout that time I never lost my commitment to becoming a real voice actor at the Shanghai Film Dubbing Studio."
In 1979 and 1980, Qiao scored the lead in two films, only to find that he preferred voice work to physical acting.
"Being a voice actor, there is an inexhaustible aftertaste, which is in stark contrast with being a (physical) actor where I found myself feeling restricted and unnatural while shooting a scene."