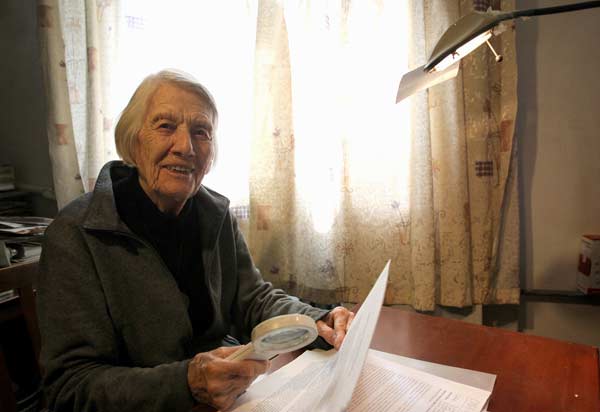 Photo by Zhang Wei / China Daily
"And Isabel was sitting exactly at the connection between a big historical event and daily life in a village."
Crook provided eye-opening accounts of wartime life in the Sichuan village of Xinglongchang, including its unique marriage and divorce practices and the power held by a local semi-secret fraternal organization.
This work is particularly significant, Hershatter says, since at the time Crook and a Chinese colleague conducted their fieldwork, 85 percent of China's population was made up of farmers who were illiterate or barely literate and did not leave written records of their lives.
Crook and her husband (who died in 2000) were among the rare foreign scholars allowed to conduct local-level research on the Chinese mainland between the 1950s and 1970s, Jeremy Eades, an honorary senior research fellow in anthropology at the University of Kent, says in the paper The New Chinese Anthropology: A View from Outside.
"I particularly appreciate her eye for detail," says Anna Lora-Wainwright, an associate professor in the human geography of China at Oxford University, who has also conducted anthropological fieldwork in rural Sichuan province.
"Even though the reality Crook portrays is long gone, her stories of small-town life in Sichuan offer a valuable comparison to ethnographic portrayals of rural China in the present."
In the early 1980s, Crook revisited Xinglongchang village to gather material for another book. She is currently at work on this.
Tiffany Tan contributed to this story.