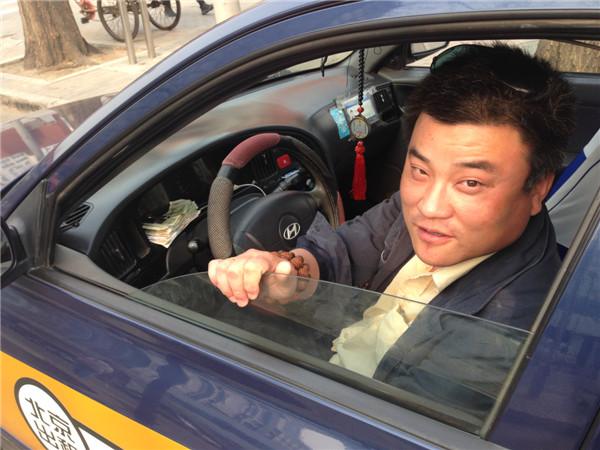 Taxi driver Hao Haixu says he can earn even more than university graduates as long as he works hard. Photo by Zheng Xin/China Daily
While the money is better than other jobs he has done, the health risks are worrying, one taxi driver tells Zheng Xin.
After six hours straight behind the wheel, Hao Haixu pulls his cab over to a taxi rank, climbs out, stretches his legs and yawns.
"Being on my feet is a bit of a luxury," says Hao, 35, pushing up his sunglasses with his middle finger and rubbing his temples to ease the tension.
Another two cab drivers pull into the rank. One of them, a cigarette dangling from his lips, hums the theme tune of a popular TV drama. The other reclines in his seat with a cap covering most of his face. It is time for a well-earned nap.
After graduating from a technical secondary school in Beijing, Hao worked as a security guard in a shopping mall, as a delivery driver at the airport and as the chauffeur for a company boss before deciding to try his hand at driving a taxi in the capital two years ago, when he heard the pay was good.
"My son was born two years ago, and I felt like I needed to make more money to support the family. A friend told me a cabbie makes more money than a chauffeur, so I quit and got a taxi."
Hao says he works from 6 am until 8 pm every day. Of course, there are many drivers who work longer hours, but there are also many who do not, he says. He will eat lunch at a fast-food outlet, wherever his last fare takes him. Sometimes he eats in the restaurant, and sometimes in his car, feeling it reduces his time off the road.