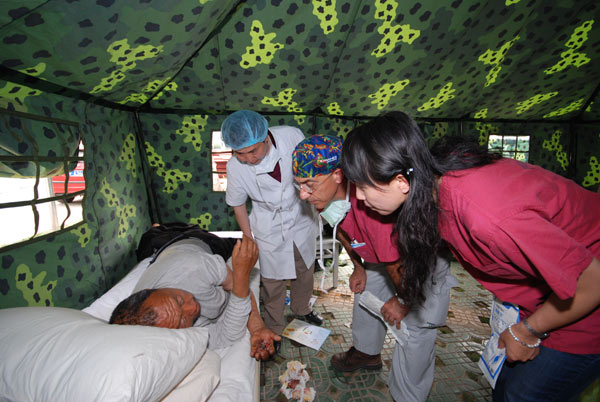 Moris Topaz (second from right)volunteered to provide medical services to people injured in the Wenchuan earthquake in 2008. Provided to China Daily
The Chinese Dream | Moris Topaz
An Israeli surgeon's dexterity treating the largest and most serious wounds has brought him to Sichuan province again and again, he tells Liu Zhihua.
Q&A
What's your personal China story?
It's very special experience, because I came to China nine years ago. I had heard about China in stories but not in reality. It is very impressive to see the way China is developing in a very fast way.
What drew you to China?
In my profession, I come where I can do surgeries, I do good (to people). It helps me know the people. I have many friends in many places in China. You meet one surgeon in one surgery, and then you know him for life.
What's your life's dream?
I don't sleep much, so I don't have much time to dream! I try to do things. I'm trying to do as much as possible.
What's your take on the Chinese Dream? How is it related to your dream?
I think the Chinese Dream should be having China improve with better medicine, better education and better life. China is one of the most peaceful countries in the world. You should keep it good, that is important.
How will you think the Chinese Dream plays out in China? What does if means for international community and Chinese people?
China is very strong and is taking more and more part in the international arena. You had the most fantastic Olympic Games and are advancing in many fields.
Moris Topaz finally had a good sleep on the flight from New York to China recently. The 63-year-old usually sleeps only three hours a day but that's enough, he says, to give him plenty of energy for his work.
Topaz heads the plastic surgery unit of the prestigious Hillel Yaffe Medical Center in Hadera, Israel. He also serves as the secretary-general of the International Committee for Quality Assurance and Medical Technologies and Devices in Plastic Surgery.
On this, his most recent trip to China, he was part of a delegation led by Ronni Gamzu, director-general of Israel's Ministry of Health, which aimed to strengthen the cooperation of health communities in the two countries.
While "cooperation" may sound vague to outsiders, Sichuan resident Gong Fangxue has a very clear idea what that word means to ordinary people.
If not for TopCloser, a groundbreaking method for closing large wounds that Topaz applied in her operation, Gong probably would have died from a huge malignant tumor.
"It was a unique case over a very big tumor. Usually with these kinds of tumors, we have to do complicated surgeries with skin grafts or flaps," Topaz says.
"This time, we actually stretched the skin in a way we hadn't done before."
Gong, 40, found a suddenly fast-growing bump on her right shoulder in 2009. The resident of Deyang was diagnosed with a malignant spindle cell tumor.
Although it didn't spread to other parts of the body, the cancerous bump grew very fast.
Over the next two years, Gong underwent several removal surgeries, but the condition always recurred shortly after the treatments, and the tumor grew bigger and bigger.
Late last year, Gong came to the People's Hospital of Deyang City, after many other hospitals, including big ones in Beijing, refused to treat her. By that time, the tumor had become half as big as Gong's head, making her head lean toward the left. It had become difficult for her to move her neck. Worse, the tumor stretched the skin so far that at any time, the blood vessels could be broken, potentially leading to massive, even lethal bleeding.
For more The Chinese Dream,
here