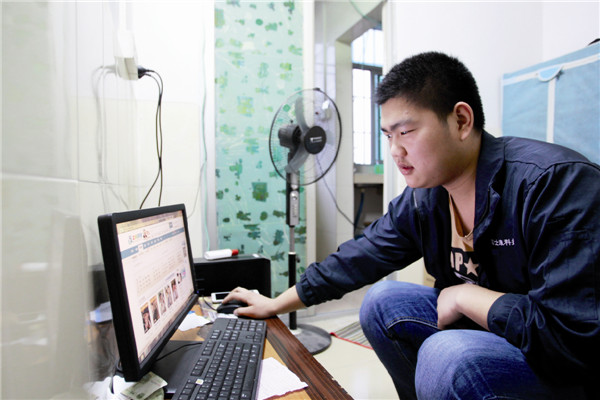 Lu mostly spends his day off each week watching movies on his PC. Photos by Zou Hong/China Daily
One young manufacturing worker believes there has to be a better way of making a living, as Joseph Catanzaro and Cai Muyuan discover.
Lu Erfeng has just handed in his resignation. After almost four years of punching out chips for Apple gadgets on the manufacturing line at Foxconn in Shenzhen, the 21-year-old migrant worker from Henan province says he has had enough.
"I don't really like the job because I don't make enough money," he says.
It's the evening before payday, and Lu is sitting on his bed in the shoebox apartment he's been renting in Shenzhen for 450 yuan ($72) a month.
"I have only 1 yuan left until tomorrow," he complains.
Lu reckons he can find more interesting and engaging work elsewhere and get more money into the bargain.
Big, broad-shouldered and thoughtful, Lu speaks slowly, considering each word. He believes the management at Foxconn has the best intentions for their workers, but says not all policies survive implementation on the factory floor.
At the end of the day, he says, all he is doing is punching out 3,000 to 4,000 motherboards during each eight- to 10-hour shift, six days a week.
"The work is very boring. You can't talk to each other. You can't listen to music. If you do your boss will come and scold you. I think it's very depressing. My friends here (at Foxconn) think it's very depressing."