Formula for success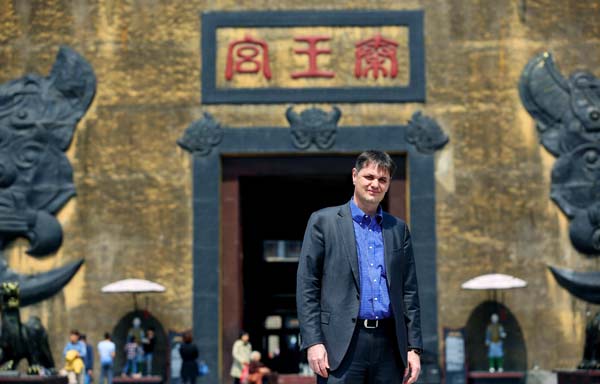 As general manager of Hengdian Group's branch based in Milan, Airaldo Piva visits the company's Hengdian World Studios in Zhejiang province. [Photo/China Daily]
A veteran Italian businessman says a stranger's tip on his first visit to China has helped him find his own way in the country for more than two decades, Wang Ru reports.
In 1992, Airaldo Piva was assigned to find chemical material suppliers in China by Sumitomo Corporation in Japan.
China once opened its doors to his famous fellow Italians, Marco Polo and Father Matteo Ricci, an Italian missionary who came to China in 1583. But for Piva several centuries later, China remained a mystery.
He was taught his first lesson in China by a stranger.
Unable to speak Chinese, Piva arrived in a small rural town in East China's Zhejiang province to meet his business partner. "I was alone, having a simple dinner in the hotel. There were few people and apparently no one could speak English," he recalls.
When he had almost finished eating, a small, elderly Chinese man approached him. "Hello! Where are you from?" the old man asked.
He was very surprised that the man could speak such good English.
"He told me about his life, his family, his town, his long experience in Germany as manager for a Chinese national company, etc. He was very happy, since he did not have many chances to practice his English," says Piva, 50.