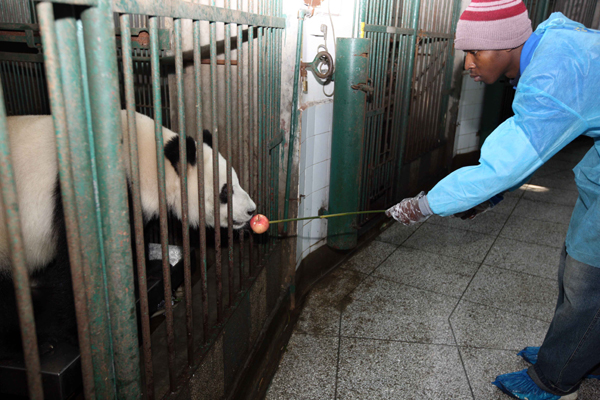 An overseas student from Beijing Language and Culture University joins the internship program at the Chengdu Research Base of Giant Panda Breeding. Gao Xueyu / Xinhua
More overseas graduates are working for free in China to gain job experience in the world's second-largest economy. Belle Taylor reports.
Having finished an international relations degree at an Australian university, Kathleen Rosser was ready for the working world. But with a sluggish global economy, she was facing a tough job market - especially as a recent graduate.
"Through my entire four years of university, all I'd heard about was China, China, China, how the economy is booming," Rosser says.
"Even after the 20-year bubble, it's still growing. Tourism and travel is now the fifth-largest industry in China. For me, it was the next challenge."
So instead of looking for a job in Australia or her native New Zealand, despite speaking no Chinese, Rosser signed up for a three-month unpaid internship at Temple Hotel, a boutique guesthouse in the heart of Beijing.
She is one of thousands of young graduates from Europe, Australia and North America, who are flocking to China to work for nothing, hoping real experience in the world's second-largest economy will boost their employability in the tough global job market.
This trend has exploded in recent years. While many employers sing the praises of internships in China, others warn the industry is new to the country. Many enterprises are unsure of their responsibilities toward the interns and some unscrupulous companies are attempting to profit from the trend.
But internships are becoming the new way for foreign graduates to get a foothold in what is an increasingly lucrative job market.
"In China, there is a very competitive graduate market," says regional manager of Hays recruitment in China Simon Lance.
"The volume and caliber of graduates coming out through the domestic universities mean, if you are a foreign graduate, you really have to be prepared to invest in getting some experience if you want to eventually work in China. I don't think it's exploitation. I think it's the reality of the market."
Lance praises internships and says not only does Hays run its own internship program but also he recommends clients take interns.
General Manager of the Australian Chamber of Commerce, Beijing Nick Coyle says while internships can be valuable experience, the industry is new and - having grown so quickly - lacks some regulation. He warns that young students need to be careful when paying intermediaries to place them with companies.
"You want to make sure it's done with reputable people," Coyle says.
"There are a lot of companies out there charging students quite a lot of money. We actually had a young British kid who knocked down our door three or four months ago and said: 'Can I come and work for you for nothing?' He had paid 3 or 4 thousand pounds ($5,000-$6,670) for an internship and got treated very badly."
Coyle says that, when done properly, internships can provide valuable experience for young professionals. But new visa regulations have made it difficult for graduates to stay in the country for more than a couple of weeks, he explains.
"What's happening now is that everyone is doing these short eight-week internships. I'm not 100 percent sure how useful they are," Coyle says.
"And trying to get into the entry-level job market in China if you are a foreigner is very difficult because you are too expensive, unless you are willing to work for local wages."
He points out that an annual starting wage for a graduate in Australia is about A$50,000 ($44,500), whereas a graduate in China would be lucky to make 50,000 yuan ($8,150).