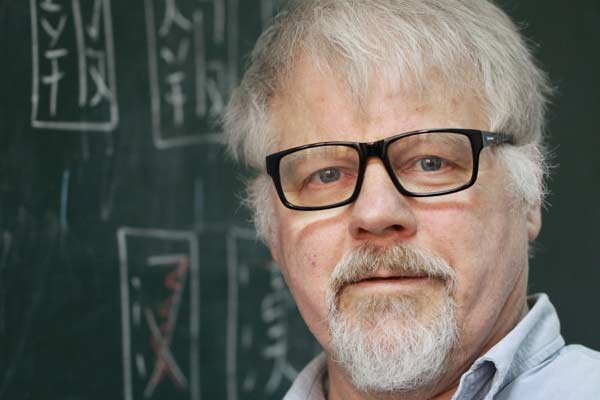 Richard Sears studies the etymology of Chinese characters in his office at Beijing Normal University. [Photo provided to China Daily]
The Chinese Dream | Richard Sears
He was just an academic with an unusual hobby - until his etymology website of Chinese characters became a smash hit online. Deng Zhangyu chats with an unlikely Internet hero.
Prior to 2011, Richard Sears was little known in China.
His Sears' etymology website of Chinese characters, which traces the origin and evolution of 6,552 of the most-common modern Chinese characters, had a small following. The academic was living quietly in the United States.
Now, Sears has more than 20,000 followers on the micro blog Sina Weibo, and is called "Uncle Hanzi" in China where he has become something of a celebrity.
Sears spent 10 years learning Chinese, 20 years establishing a database of Chinese characters (hanzi in pinyin), and another 10 years setting up his etymology website.
"People thought I was crazy when I was in the United States, spending all my money and time on the website. But for me, it's just an interest," Sears says.
The 64-year-old teaches physics in the department of system science at Beijing Normal University and spends his spare time working on his website, chineseetymology .org.
Wu Jinshan, an assistant professor and a colleague of Sears, says the American is the first person in the world to digitalize Chinese etymology and share his research for free online.
"Chinese scholars have written many books on Chinese etymology. It costs a lot of money to get all of them. But Richard did all the collecting, compiling and digitalizing of the information," Wu says.
Sitting at his office at Beijing Normal University, Sears shows the evolution of the Chinese character wu (dance) from its seal script to modern Chinese on a blackboard.