Comparison is cruel
The dishes were nicely paired with wines from Geoff Hardy, an Australian family winery that dates back 160 years. Their wines, K1 by Geoff Hardy Chardonnay 2009, and Pertaringa Over the Top Shiraz 2009, displayed a quality and purity that entirely complemented the food on offer.
Related: A winter feast at Madame Zhu's
Bec Hardy, commented after introducing her great wines that she had been to many Michelin-starred restaurants, but the meal at Le Quai was the best she had.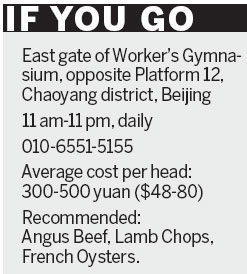 The impressive meal was an example of what happens when good ingredients fall into the right hands. It was singularly impressive also because Kenny Fu has a background not just in Western cuisine, but also in traditional Chinese cooking.
Compared to other Western restaurants that offer upscale seafood, lamb and beef dishes, Fu is able to add more flavor - an advantage of his Chinese cuisine background.
He paired bluefin tuna carpaccio with black truffle tomato dip, and truffle honey, just a touch more tasty than the ordinary carpaccio.
Braised abalone was served with abalone sauce, and white truffle oil, while king prawns were prepared with brandy sauce. The flavoring is inspired by Chinese methods, but used on Western ingredients.
The beef and lamb dishes had some interesting Chinese elements.
Angus tenderloin was paired with a very nice red wine, marinated local figs and roasted chestnuts - popular now as the season has arrived in Beijing.
Meanwhile, the signature lamb chop came with a sweet potato topped with gratin cheese, a successful combination of Chinese and Western cuisines.