A winter feast at Madame Zhu's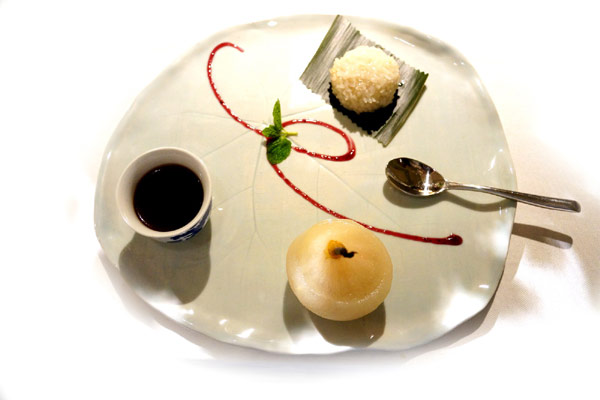 While it is always nice to dine at a restaurant that is beautifully decorated and comfortable, it is when the chefs put their hearts into the food that the dining experience stands out - like a meal at Madam Zhu's Kitchen.
Their new winter menu is particularly tempting because it features so much crab. When the cold winds blow, Chinese gourmets believe that the meat of the river crabs tightens and taste better. At the same time, October to December is considered the best time to eat crab because they are full of roe and milt.
We started with a "drunken crab" appetizer, in which the crab is marinated in yellow rice wine and attains a super-smooth, jelly soft texture. Think salmon sashimi, but even more slippery. Half a drunken crab is served in a Chinese teacup, lightly seasoned with soy sauce.
Another crab dish came out looking like a golden cake. But it is actually a crab-shell, dusted with flour and deep-fried and holding a very pleasant surprise - fresh fox nuts fried with crab roe and meat.
Dried fox nuts are usually available from Chinese supermarkets and people often boil them along with rice in congee. Known for its health-giving qualities, the nut is actually the fruit of a water plant and is said to replenish qi (or stamina), and benefit the spleen as well as the kidneys.
But Madame Zhu uses fresh fox nut from Suzhou, which tastes a little glutinous, but has a pleasant resistance to the teeth - and tastes so much better than the dried nuts.
The chefs had invested our meal with a lot of diversity and presentation.
Crab leg is paired with asparagus, while shredded crabmeat is added to a vegetable salad.
Xiefen, a traditional mixture of crab roe and meat, is stuffed into a wax gourd container, or used as filling in a rice ball.
As fitting to the season, where more gamey meat is eaten, a wild duck soup with fish maw and fungus, and a braised lamb leg were also presented. According to traditional Chinese culinary wisdom, duck is considered cool in nature, while lamb is warmth replenishing, both perfect for a season when you need nourishment and heat.
The slow-boiled duck soup was very flavorful and natural tasting, one of the best offerings of the meal. The lamb leg was braised for as long as five hours and tasted just a little too soft. But, the tendons on the leg added fun to the tasting by giving a total contrast in texture.
Dessert was a traditional Shanghai-style rice ball with crab roe and meat filling, as well as a hollowed-out sweet Xinjiang pear filled with tender snow lotus seeds.
Almost all the courses showed a good balance between meat and vegetables and the menu was light, healthy but delicious.
Restaurant owner Zhu Rong had started with a Sichuan restaurant, but later sold it at the height of its success. She then founded Madam Zhu's Kitchen, which combines the best of Chinese food styles, with an emphasis on Shanghai and Huaiyang cuisines.
Madam Zhu's Kitchen is beautifully decorated, with fresh purple and white daisies on the table, and a colorful fruit platter of pomegranate, kumquat and winter jujube before supper.
All the dishes were well presented, but my one remaining wish was to have a whole crab simply steamed, along with all the sophisticated crabmeat dishes.
After all, it is the season, and the simplest is often the best, especially when it comes to river crab.
If you go:
Madame Zhu's Kitchen B1, Block D, Wantone Center, A6, Chaoyangmenwai Dajie, Chaoyang district, Beijing. 010-5907-1625
Average cost per head: 120-150 yuan ($19-24) per head.
Recommended: drunken crab, wild duck soup, Xinjiang pear with snow lotus seed.
Opening hours: daily 11 am-10 pm.