Vuitton plans Paris show of MoMA works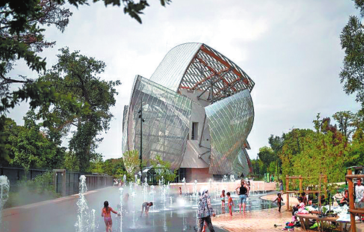 Being Modern: MoMA in Paris will open on Oct 11 at the Louis Vuitton Foundation's Frank Gehry-designed gallery in Paris. [Photo provided to China Daily]
PARIS - Salvador Dali's The Persistence of Memory and Warhol's Campbell's Soup Cans will be among iconic works from New York's Metropolitan Museum of Art in a blockbuster show opening in Paris next month.
With some 200 works, the show traces the nearly 90-year history of MoMA's collection, from early modern art to abstract expressionism, minimalism, pop art and digital works.
Being Modern: MoMA in Paris will open on Oct 11 in the private gallery that was inaugurated to great fanfare in the Bois de Boulogne, west of Paris, in 2014.
MoMA director Glenn Lowry welcomed the challenge of installing the exhibit in the Louis Vuitton Foundation's Frank Gehry-designed gallery.
"To think about works you know very well in a completely different context, a different audience in a new space - that stimulated us," Lowry says.
"You had to play with the building," says Quentin Bajac, the show's curator and MoMA's head of photography.
Among the prized works will be Cezanne's The Bather and Pablo Picasso's Boy Leading a Horse.
Lesser-known pieces are by Cyndy Sherman, Yayoi Kusama, Sherrie Levine and Rirkrit Tiravanija.
The show will run through March 5, 2018.
MoMA is not the only major New York museum to lend collections to Paris this year.
The Whitney will present around 60 major pop art works for the first time in the French capital at the Maillol Museum from Sept 22 to Jan 21.
And the Metropolitan plans a retrospective, honoring portrait photographer Irving Penn, at the Grand Palais from Sept 21 to Jan 29.
Agence France-Presse