Exhibition shines spotlight on British abstract artist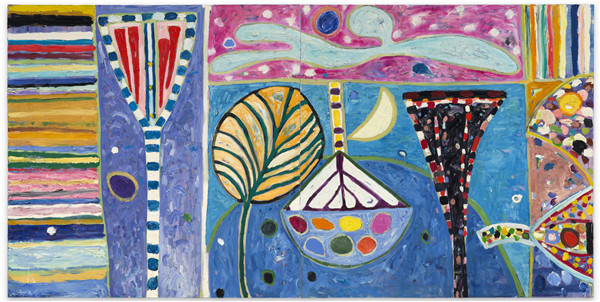 British abstract artist Gillian Ayres' exhibition, Sailing off the Edge, to be held at the Central Academy of Fine Arts in Beijing, will showcase 17 large paintings she has produced since 1979. [Photo provided to China Daily]
Age prohibits Gillian Ayres, the British abstract artist, from doing as much work as she would love to with regard to painting and gardening.
"The day I was no longer able to dig a hole and plant something or climb up ladders to paint large paintings was as bad as the day my driving license was taken away because of old age," the 87-year-old artist says in an email interview.
Yet her latest paintings still burst fiercely with vibrant colors and powerful shapes. She is inspired by the environment surrounding her home in the remoteness of southwestern England and also the plants she has grown for some 30 years.
"The place I live is a great place to work and paint," she says.
"Most of my favorite plants originally come from China."
She sees nature as paints, she says.
Ayres will share the richness of her art in her China debut in Beijing on July 30.
Titled Sailing off the Edge, the exhibition to be held at the Central Academy of Fine Arts from July 30, will show 17 large paintings that she has produced since 1979.
That year marked a special moment in Ayres' career. She had just become head of painting at the Winchester School of Art, the first woman to hold such a position in Britain.
She gave up teaching in 1981 to be a career painter. But it was not until her late 50s that she could live by painting alone.
Explaining the exhibition title, Philip Dodd, the British curator, says it is because Ayres compares her way of painting to the experience of Magellan, the Portuguese explorer who thought the world was flat before he sailed, and "sailed off the edge of the known world", finding new worlds.