Ancient art inspires ink painter to create modern work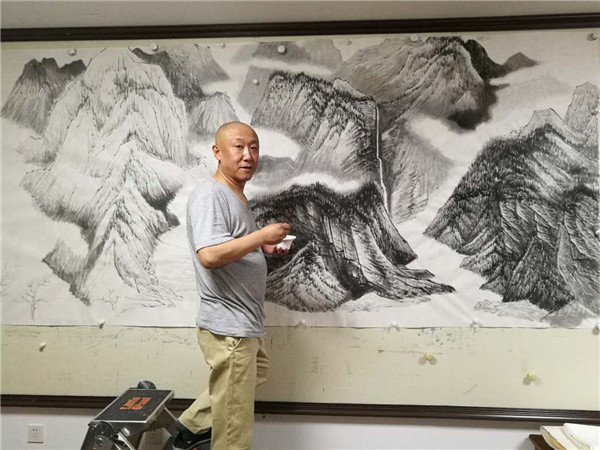 Ma Xiaotian works on his ink creation in his Beijing studio. [Photo provided to China Daily]
Ma Xiaotian has been painting lotus flowers at his studio in Beijing even in the July heat.
The ink painter says the dark green leaves and pink flowers on paper "have a magical power to cool his body and mind".
He has just completed a painting, more than 1 meter in height, which took him three days to finish, from early morning to late night.
"When painting lotus leaves, I use the technique of lishu (a style of Chinese calligraphy)," says the 55-year-old artist.
Lotus is one of his favorite topics. The painter has also painted figures, birds and flowers, and landscapes-all of which have been included in his new book released in spring.
A solo show is under plan and will be held by the end of the year, he says.
The book has more than 100 pieces of ink-and-wash paintings, almost half of which are figures, such as men fishing on a boat, children dragging a cow or an old man playing the guqin (a traditional zither) under a tall tree.
The earliest figure painting in the book is one depicting a beautiful woman in ancient clothing, which Ma painted at the age 17. The piece won him a national prize and encouraged him to explore the art form for a lifetime.
Unlike many other Chinese painters who went to art colleges to learn the skills, Ma didn't train at such an institute. He learned from different painters he admired.